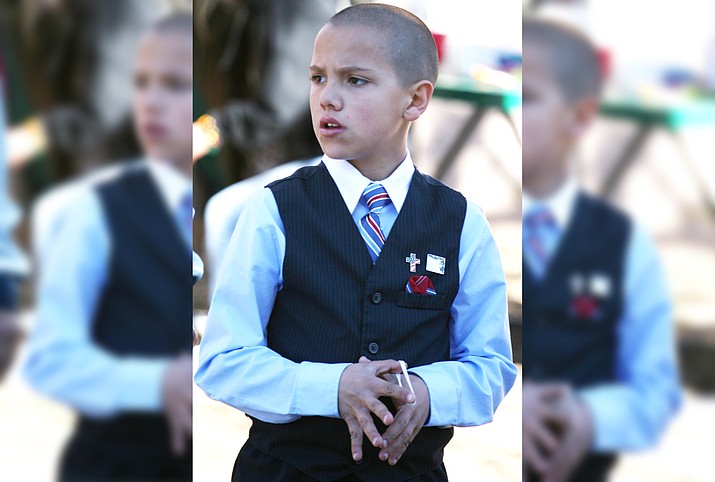 Originally Published: September 19, 2017 2:28 p.m.
Editor:
Do you know who Chandler Plante is? You may have seen him around town doing things to help our community and the people of Camp Verde. You may have met him but have not had the chance to get to know him and his family like I have.
Chandler Plante is an 11 year old kid that since the age of 5 year old had been rallying community members around causes or programs that touched his heart. His enthusiasm for volunteering and helping others has inspired many people in the Verde Valley to join him in his efforts.
Chandler has proven by example, that it does not matter how old you are, you're never too young or too old to help your fellow neighbors.
I recently nominated Chandler for the 16th Annual Governors Volunteer Award of Arizona with the help of our local town Library director Kathy Hellman. Chandler is an amazing kid with a huge heart. Here are some things you may or may not know about Chandler Plante.






As President of the Camp Verde Lions Club I try to instill in my club members what being a Lion is all about – service to others our community. Chandler Plante embodies what being a Lion is all about through personal acts of service as well as by inspiring others to follow his lead. Since first meeting Chandler, I have been amazed by his genuine, good-natured heart, willingness to help others and efforts to bring awareness to issues like civil rights in our community.
I see Chandler's desire to help others without being told to do so as genuine and unique in this day and age when many people are focused only on themselves. I can only compare his great actions to his big heart.





Since Chandler was 5 years old, he has volunteered and organized fundraisers such as raffles and coin collections to raise money for local residents in need of financial help to pay medical bills. When Chandler is not in school he helps with food drives, collecting and sorting foods for local food banks, and offers free lawn service for the elderly and handicap people of Camp Verde.
Chandler is always looking for way to help others in his community with no thought to himself. If he hears of someone in his community in need of assistants, Chandler is more often than not the first to try to help. Whether it is raising money to help someone finically in need or just bring awareness to issues that affect us all.
His selfless acts of kindness to others is what makes Chandler a great nominee for this award. From organizing fund raisers to collection food and clothing for people in need; Chandler Plante not only helps people with his random acts of kindness to others, but brings awareness to issues like Civil Rights.
As well as helping people affected by tragedy and loss. He reminds people in Camp Verde that a little help from others goes a long way.


It truly amazes me that Chandler is only 11 years old and has been volunteering and organizing projects to help others in our community of Camp Verde since he was 5 years old, all the while maintaining perfect attendance since the first Grade and a 4.0 grade average since the third grade.
Chandler's random acts of kindness to others, which he sponsors though his Facebook page to challenge others to do the same, make me proud to have Chandler as a member of the our Camp Verde Lions Club.





More recently Chandler Plante along with help from his parents Robert and Janice Plante and his sister Jordan Plante and fellow Team Leadership class mate McKinley Brewer and myself; collected about 75 cases of water and other supplies for the victims of hurricane Harvey just this pass Friday outside of the CVS store in town.
They collected water for hurricane Harvey the weekend before at the Fry's in Cottonwood while the rest of us were enjoying the Labor Day weekend.
Chandler's kindness and good-natured heart drives me to do good things to help others and keep our Lions Club going. Chandler provides a genuine response to needs and produces positive results for his community that we can all learn from.
I only wish more people in our community would follow his lead and join organizations like the Lions Club, we could do so much more for our community and others with more people like Chandler Plante and his family.
Thank you Chandler for everything you do to help our community and others.
Paul Estrada
President
Camp Verde Lions Club
More like this story