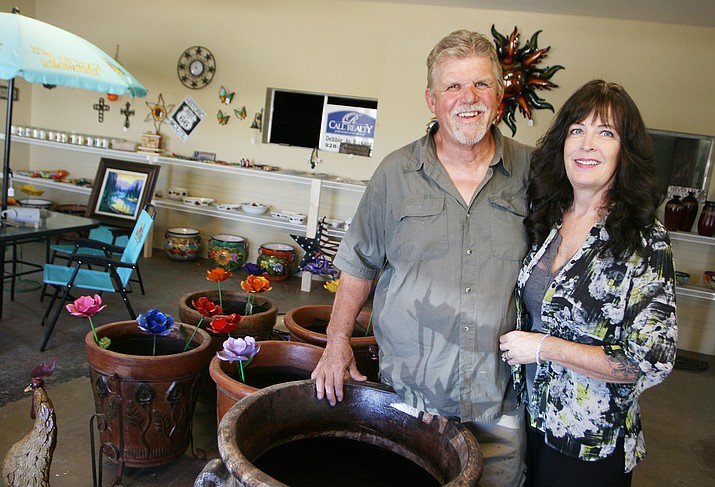 Photo by Bill Helm.
Originally Published: September 19, 2017 11:08 a.m.
CAMP VERDE – Since Aug. 7, The Yard, Home and Garden Imports on Howard's Road off SR 260 has been open daily from 10 a.m. until 5 p.m. as a place for folks to pick up home and garden décor.
Much of the goodies at the new store are imports direct from Mexico, says Debbie Jo Rosane, who owns the business with her husband Randy.
Mexican pottery, Native American and Mexican tiles Native American and Mexican tiles Talavera, colorful metal flowers, feeders and bird baths, woodwork, glass wear, fountains, seasonal and gift items, as well as paintings by local artists are available, and at good prices, Rosane says.
"We do what we can to keep prices down," she says.
Though The Yard is a new business, the Rosanes are not new to the business world. For 15 years, they ran a similar business in Florence until a few years ago.
"We decided to move here a couple of years before we left Florence," Debbie Jo says.
No longer do they own the River Bottom Bar and Grill, or its companion, the Gila Trading Post. In fact, the Rosanes didn't plan to get back into business when they left Florence.
Debbie Jo's plan was to sell real estate for Call Realty, at 2041 W. Calle Salida in Camp Verde.
"When we moved here, we couldn't find the stuff we sold," Debbie Jo says. "So we decided to jump back in and make it happen in Camp Verde.
Though she still is a realtor, one could say that The Yard is her day job.
The Yard Home and Garden Imports is located at 801 E. Howards Road in Camp Verde. Call 928-274-9031 for more information.
-- Follow Bill Helm on Twitter @BillHelm42