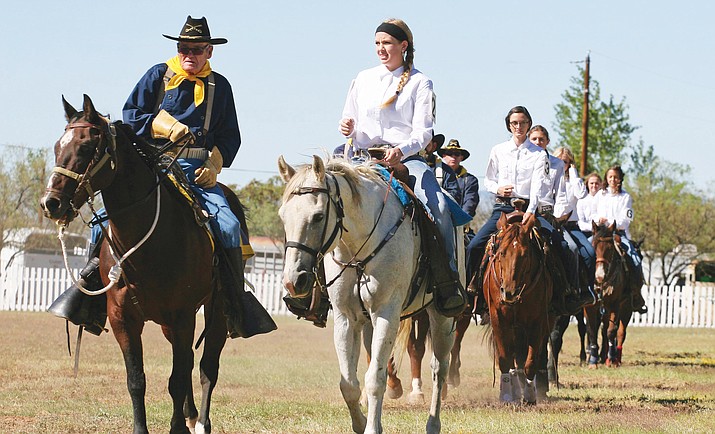 Originally Published: September 23, 2017 11:29 a.m.
No matter how a person defines beauty, there is sure to be someone around the corner who looks at it differently.
The annual Colonel's Daughter contest, at 1:30 p.m. Sunday at Fort Verde State Historic Park, is as close as Camp Verde has to a Miss America contest.
Though the event first began 57 years ago, the title of Colonel's Daughter came from a novel written in 1882 by Charles E. King, a retired captain who joined the 5th Cavalry in Camp Verde in May 1874.
As the story goes, King was inspired by Carrie Wilkins, daughter of Lt. Col. John D. Wilkins of the 8th Cavalry.
Since 1960, young ladies compete for the title and are selected based on their horsemanship, poise and personality. Horsemanship is judged on the ability of the young girls, ages 13 to 18, to "sit her horse well and give a well-balanced, graceful, effortless appearance and have her horse under control at all times," according to the Camp Verde Cavalry, who runs the annual event.
For the contest's poise and personality component, the girls wear 1800s-themed dresses and answer questions regarding horsemanship, current events and the history of Fort Verde.
The winner receives not only the privilege of being named Colonel's Daughter, but also a buckle and spurs. And each participant receives a gift by community merchants.
Most importantly, the girls who participate learn something about hard work, the sense of accomplishment – and what the Colonel's Daughter and its history means to Camp Verdeans.
Though Sharli Macdonald was happy to see her sister Brittany win Colonel's Daughter in 2005, she admitted a few years back that she was "a little jealous" at the time.
"It was awesome," Macdonald said in 2013. "I was so happy [Brittany] got to do it and I couldn't wait for me to do it."
On her third try, Macdonald won the Colonel's Daughter in 2012, the first sisters this century to have won the award. A year later, she said it was a dream come true to be named Colonel's Daughter.
"I finally got to represent Camp Verde," she said. "I represent a part of Camp Verde history."
For Alana Neary, the fourth time was the proverbial charm, as she was named Colonel's Daughter in 2016.
Already confident in her horsemanship, Neary had not been pleased with her public speaking. Until she won.
"I learned it's best to speak what's true to you, and have confidence in what you know," Neary said recently.
Horsemanship, poise and personality will be tops on Camp Verde's A-list Sunday at Fort Verde State Historic Park, where 10 of the community's young girls hope to be named the 2017 Colonel's Daughter, to represent Camp Verde – and possibly learn something about hard work and the sense of accomplishment that makes Camp Verde the place that it is.
More like this story