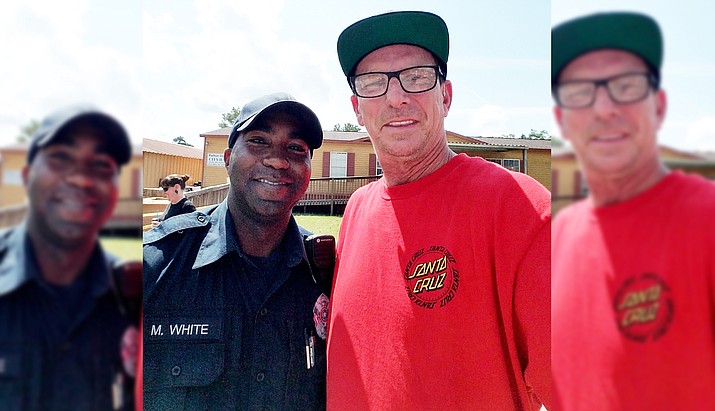 Originally Published: September 23, 2017 11:46 a.m.
SOUTH TEXAS -- Under the protection of armed townspeople and the Louisiana Cajun Navy, Cottonwood's Ken Wood made sure that Hurricane Harvey relief donations he collected from the Verde Valley ended up directly in the hands of hurricane victims in South Texas.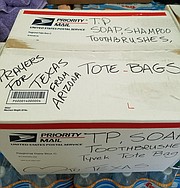 Things went awry when Wood got his rented trucks to Texas last Friday and found out the Marine Corp League was waiting for him in Kempter, Texas, when he was mistakenly driving to Kemp, Texas, which was 300 miles away.
So on Saturday, he parked the two Penske trucks full of donations at a motel three hours from Houston to get his "marbles together."
Wood had two choices:
• Drive the donations to a large distribution center in Houston, and run the risk of being looted after having been warned that protection could not be guaranteed.
• Or, take it directly to the hurricane victims in a small town called Splendora, which was flooded after Hurricane Harvey. People there desperately needed water and food.
Wood estimated the population of Splendora to be just under 2,000 people and it was next to Patton Village, which is similar in size, about 20 miles from Houston. Wood decided to go directly to those victims.
When the trucks finally arrived in Splendora and Patton Village, Police Officer Michael White was the first person to greet him, Wood said.
"Officer White, that's his town," said Wood. "The mayor, she came running out to meet us. She was thankful that the trucks got in. Officer White said he was there for only one reason -- one reason only -- to take care of the trucks, and us, to make sure nothing happened," Wood said.
For added security for the Cottonwood delivery, Officer White was joined by the Marine Corps League and also members of the Louisiana Cajun Navy and they were "fully armed."
Wood explained that the Louisiana Cajun Navy is a group of civilians who are saving and rescuing hurricane victims with their own boats and vehicles. Even their search and rescue members helped unload the trucks.
"Everybody in that town was in on unloading that truck," Wood said. "The people in the town were also carrying weapons."
"So we were protected," Wood said with a laugh, even though he admitted he was nervous driving through Texas and being responsible for the trucks and crew.
"It was no joke," Wood said. "There was a guy selling water for $125 a case and the police busted him and let the people, who were lined up to buy the water, go to the back of the truck and take all the water they wanted.
"Neighborhoods like ours, you can go where there's like five homes and they are all destroyed and the people aren't there," he said. "There are people still sleeping in their front yards."
Splendora is 20 miles from Houston and 13- to 18-feet of water submerged their homes.
Bottled water is their only drinking water, Wood said. They haven't had a hot meal in two weeks. The 7,700 packaged meals donated by the Verde Valley's Kids Against Hunger organization was the most important thing in the 32,000 pounds in donations he delivered to Texas, Wood said.
"I remember everything everyone brought in," Wood said referring to the Verde Valley donations. "When I was handing it off, I knew who it was going to, and where it came from, and it went to the people that needed it – that was the coolest thing."
Wood, owner of A1 Supreme Moving in Cottonwood, said he's already gone to the Montessori School in Cottonwood, which donated to the haul, and told the children about his trip to Texas.
"I sat with the mayor (of Patton, Texas) and she read the Letters of Hope, and she was crying," explained Wood.
The Camp Verde Middle School and the Montessori pre-school wrote Letters of Hope to Hurricane Harvey victims that Wood brought with him and the relief donations.
The mayor read them aloud to the search and rescue members, members of the Louisiana Cajun Navy and Officer White. "She (the mayor) is going to get in contact with them," said Wood.
Wood wanted to make sure he thanked everyone in the Verde Valley who donated to the relief shipment over two weeks before he went to Texas and wanted to mention some businesses for their added support: Vinnie's Pizza, One Arizona, Kids Against Hunger, Penske Truck Rentals in Prescott, La Femme Hair Salon. Crow Hair Studio, Montessori Pre-School, Verde Valley Medical Center, Habitat for Humanity, Northern Arizona Mortgage, Sedona Paint Center and the Cottonwood Fire Department. Wood said he was sure he was leaving out some people.
Wood was the second Cottonwood business owner to raise relief donations in the Verde Valley and bring them to Hurricane Harvey victims.
Two weeks ago, Jet Foley, the owner of RIOT in Old Town Cottonwood, packed donated items from the community into a borrowed trailer and truck and drove to Texas and distributed them.
Foley said she saw so much devastation in Houston and thanked the Verde Valley community for helping with the needs of Houstonians.
Reached by phone Friday morning, Patton Village Police Officer White said the community seems to be "doing well … slowly, but surely."
He thanked the people of the Verde Valley for their donations.
"It's a blessing," he said.