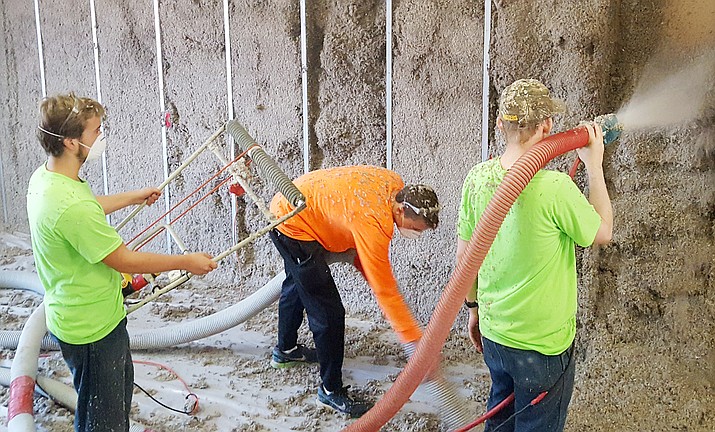 Originally Published: September 23, 2017 11:41 a.m.
COTTONWOOD – A year ago, Valley Academy of Career and Technical Education offered three centralized technical education programs.
This year, the program now offers six.
With a new 7,700-square-foot career and technical education campus at 3405 E. SR 89A, Valley Academy – also known as V'ACTE – includes construction technology among its new offerings. And Valley Academy Superintendent Bob Weir said he is pleased with the class's "great learning opportunity."
"The central programs are going well," Weir said. "And we've doubled our enrollment."
Last year's ADM – average daily membership – was 28. With twice as many programs, Valley Academy has between 55 and 56 ADM, Weir said.
With classrooms, offices and a large work area, Weir said that construction students have "learned and demonstrated how to construct and install metal studs, hang and finish dry wall and run electrical lines for outlets and light fixtures."
"We greatly appreciate the support of the construction industry of the Verde Valley has given V'ACTE as we start the construction technology program for the students in the Verde Valley and Sedona," Weir said.
According to Weir, the program's seniors have completed IVES industry certification in Scissor lift operation in the past week, thanks to United Rental of Flagstaff for the scissor lift.
"Travis Black, the construction teacher, is certified as an IVES trainer in the core four lift operations," Weir said. Students are also in the process of learning framing skills.
"They are constructing small model homes using the wood we had donated from Northern Arizona Wood Working from Prescott Valley, which was set up by Jim Lawler," Weir said.
Valley Academy's construction technology program is held from 7 a.m. until 10 a.m. Monday through Thursday. For more information about the career and technical education program, call 928-634-7131.