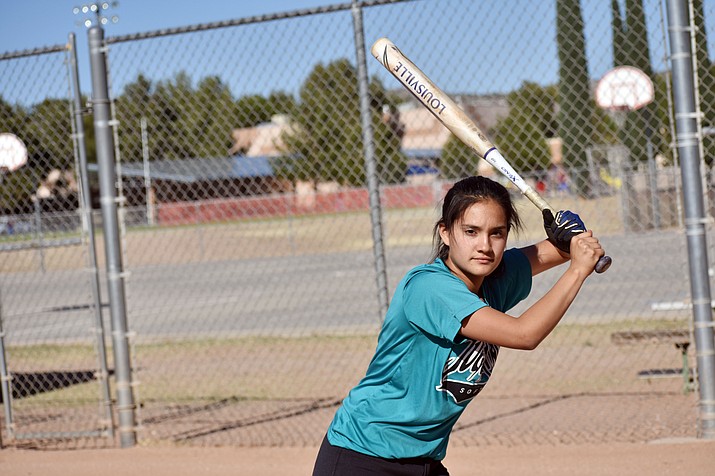 Originally Published: April 19, 2018 4 p.m.
Camp Verde High softball freshman Cassandra Casillas may be quiet, but she lets her bat and glove do the talking.
Casillas has started at second the entire season but the roster lists her as a pitcher and outfielder too.
"She's been good," said CV head coach Henry Smith. "She came in, I mean obviously she's a freshman but she plays for me in the offseason but I had high expectations and I was excited to see what she could do because during the summer time she did really well."
Through 20 games, Casillas is hitting .443, with an on base percentage of .514, 27 hits, 15 RBIs and 21 runs,
"She came in this season and she's dominated everything that she's played, the position and at the bat, she can play multiple positions for us, so definitely one of our most valuable players as a freshman," Smith said.
Smith said the quiet freshman just absorbs and tries to execute what the coaches say.
"We had tryouts and right away she shined I figured we have to find a place for her, because as young as she is, she knows so much about the game, she's quiet, she's a listener, she does exactly like you ask, a perfect example of the attitude a young player should have," Smith said.
Casillas has played for Smith's club team since the summer of her sixth grade year.
"She came in as just little tiny Cassandra that could barely hit the ball out of the infield, to now she puts the ball wherever she wants and she's capable of hitting home runs, she can do everything," Smith said.
She has five doubles, a triple and a home run through 20 games this season.
"She's very situation smart," Smith said. "She understands what type of out we're looking for, what type of pitch to predict in order to anticipate the ball going in a certain direction, so she's very knowledgeable in the game I can't wait to see as a senior when she leaves here."
Smith said she certainly can play college softball.
"She has it all, as long as she can maintain her grades, which I know she does get good grades, stay healthy, get better, get as good as she possibly can, I think taking it to the next level would be a formality She's a really good ball player with a great attitude," Smith said.
VVN: How do you think the season's gone for you?
Casillas: Pretty good.
VVN: How's that transition been like for you going up to the high school level?
Casillas: It's pretty good, I like it.
VVN: Has it been tough or just kinda the next step?
Casillas: No, it hasn't been tough.
VVN: What's it been like playing second at the high school level?
Casillas: It's been pretty good, I like it.
VVN: How long have you been playing softball?
Casillas: Since I was pretty small (laughs).
VVN: How'd you get into it?
Casillas: Well I started playing tee ball so…
VVN: What's coach Smith like as a coach?
Casillas: He's a good coach.
VVN: How's school been going for you?
Casillas: Pretty good.
VVN: Do you know what you want to do after school?
Casillas: No.