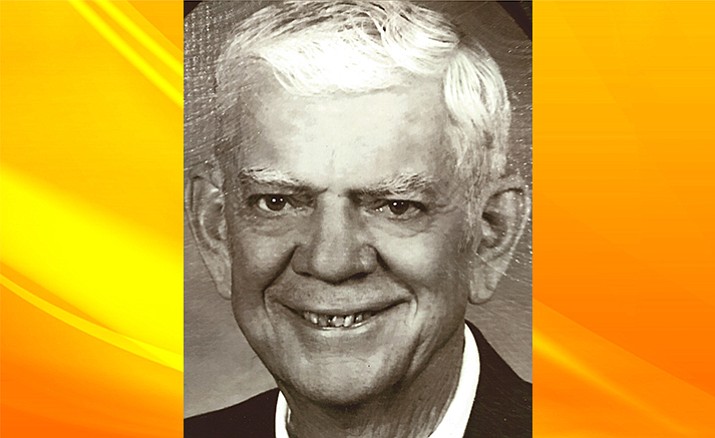 Originally Published: April 19, 2018 1:33 p.m.
CAMP VERDE – In 80 years, Jim Ash did more than travel from Akron, Ohio to Camp Verde.
His impact in the Verde Valley was huge – as volunteers go – as he started the Camp Verde Library Endowment.
To Linda German, it was his laugh – his "great laugh" – that she thinks of now that he passed away going on six months.
"He was a great person" she says. "He was the original old guy," as she references the group of geriatrics who replace, renovate, install, fix, conceptualize and build things with one goal in mind – to make Camp Verde a better place.
At 10 a.m. Saturday at the Camp Verde Community Library, Camp Verdeans far and wide will have an opportunity to remember Ash with a Memorial Tree Reveal to honor their "Quiet Leader"
Charlie German, Camp Verde's mayor – and Linda German's husband – says Ash "truly was a pillar of volunteerism in Camp Verde."
"He continually sought ways to improve his service through the CVLE, coordinating and executing the activity of the Salvation Army's Bell Ringers in Camp Verde in front of the Camp Verde Bashas' store fundraiser for those locally in need of assistance with rent and/or utilities," Charlie German says.
Ash also helped the AARP Tax Preparers. When he wasn't otherwise busy giving of himself, Ash was an avid woodworker and often made wooden projects for various people, churches, organizations – and of course for his close friends and family.
But Diana Hopper remembers Ash as someone who "never wanted anyone to give him kudos."
"He never did anything for the limelight," she says.
Perhaps he would be embarrassed to see such a fuss as a tree dedicated in his honor.
The April 21 tree memorial for Jim Ash, who died on Nov. 8, will be held at the Camp Verde Community Library, located at 130 Black Bridge Road.
A dessert reception will follow in the library's Terracotta Room
For more information, call the library at 928-554-8380 or contact Linda German at 928-567-3596 or ljcgerman@msn.com.