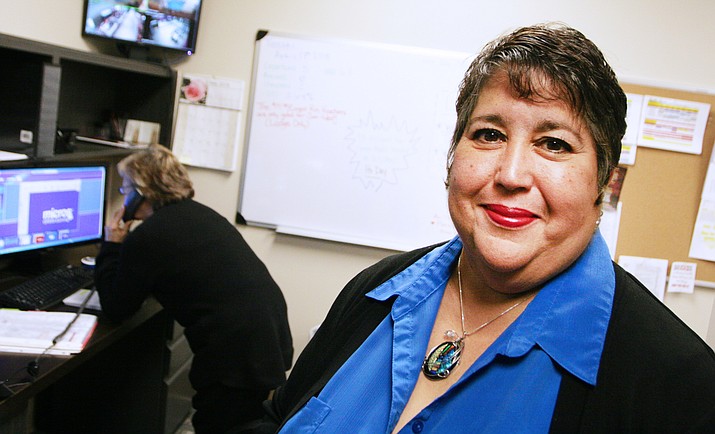 Originally Published: April 19, 2018 12:54 p.m.
CAMP VERDE – Renee Tafoya says that working at Cliff Castle Casino's new hotel is like working with family.
"She's like a mom," Tafoya says of Delia Enriquez, the hotel's director of operations. "She makes you feel like she's proud of you when you do a good job."
The hotel's front desk clerk boasts the way Enriquez "lets you be independent."
"She's cheerful," Tafoya says. "All of our guests are happy, and I think it's because of the atmosphere."
Enriquez came to work for the Nation in December 2017, as workers were putting the finishing touches on the new six-story 122-room hotel, which opened in late-February.
Enriquez worked the past five years as front office manager at the Hilton Sedona Resort at Bell Rock, before that she worked 12 years as director of hotel operations at L'Auberge de Sedona.
Enriquez is a long ways from Connecticut, where she was born and raised.
"I call myself a Yankee-rican," says Enriquez, who moved to Miami at age 30 where she spent 10 years before relocating to Arizona for her work.
Arturo Rodriguez, who also worked at the Hilton before coming to Cliff Castle Casino's new hotel, says Enriquez is "very forgiving."
"She has an understanding, if you make a mistake, she helps you learn from your mistakes," Rodriguez says. "She's hands-on with you, step-by-step, and she lets you do what you need to do."
Getting started
Forty years ago, Enriquez started her hospitality career as a bus girl in a restaurant while she was in college – to be a nurse.
"Bussing tables, waitressing, restaurant supervisor, the front desk, hotel reservations, front office operations," she says. "Anything to do with the hotel business, I wanted to learn it."
Enriquez almost became a nurse
Enriquez dropped out of nursing school after less than two years. Because she "got angry" with her mother.
"Back then, you couldn't get angry with my mom," she says.
Her mother still says that Enriquez should have stuck with nursing, she says.
"My mom told me recently 'If you had been a nurse, you could have gone anywhere in the world," Enriquez says. "I told her 'But mom, I can do that now!'"
Transitions
"Every day I'm learning something," Enriquez says of now working at a hotel connected to the gaming industry. "It's a beautiful location, and Camp Verde is growing – it's right in the middle of everything."
A resident of Sedona, Enriquez says she enjoys the scenic drive to work each day.
"I love Sedona, but this is a cute little community here with a lot of potential," Enriquez says.
Day in the life of Delia Enriquez
"It goes by fast when you have a passion for it," Enriquez says of the typical work day.
One day, she might work 10 hours, another day she might work 12.
"I'm not scared to get my hands dirty," she says. "If housekeeping needs help with the beds, I change my shoes and I help them. Same with the front desk."
Complaints vs. opportunities
Enriquez says a priority at the casino's new hotel is to "provide good customer service, and to value and empower my employees to make good decisions."
"There's no such thing as a guest complaint," she says. "They're opportunities to turn the experience around."
Part of the team
Sales and Events Manager John LeDoux has worked with Enriquez since her days at the Sedona Hilton, going on two years now. When she said she would be moving over to the casino's new hotel, LeDoux "knew I wanted to be part of that team."
-- Follow Bill Helm on Twitter @BillHelm42