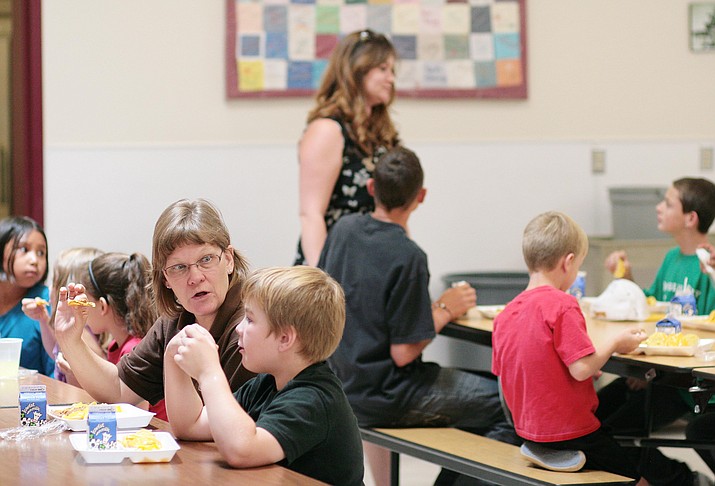 Originally Published: April 23, 2018 2:22 p.m.
RIMROCK – Although the state-wide walkout of Arizona school teachers is scheduled to start on Thursday, neither educators nor school officials know how long the strike will last.
This walkout, a protest of school funding policies going back more than 10 years, has forced Beaver Creek School District to send its families a closure letter for April 26.
"We have met as school leaders and have found that we do not have enough staff to keep the school open on April 26," District Superintendent Karin Ward stated in the letter dated Monday, April 23.
Should Beaver Creek teachers be off campus just the one day, Thursday's missed instruction will be made up from 7:45 p.m. until 3:15 p.m. Friday, May 4, Ward stated in the letter.
"We are concerned about how this stoppage affects everyone in our community, mostly our students," Ward stated. "However the possible thought of much-needed additional funding to schools in Arizona will support our children so much more."
If additional instructional hours must be made up, a plan will be sent out "as soon as possible," the letter also stated.
No access
Ward's letter also stated that during the work stoppage, Beaver Creek's students and families will not have access to the school's buildings or fenced areas, which includes after school gym facility usage as well as the preschool.
Extracurricular student programming, which includes clubs, activities, performances, celebrations and field trips, will be suspended, though Ward stated that they "may be rescheduled, if time permits."
Single-day field trips will also be suspended, as will all pre-k 8 transportation services.
Should the teacher strike extend beyond April 26, Beaver Creek School District will also close its 21st Century programming on Friday, April 27.
Food service
Though the school cafeteria will be closed during the strike, the district will offer students additional food Wednesday from its School Food Pantry.
Emergency food boxes from the community pantry will be available at the district, call 928-567-4631 for more information.
For additional information, Beaver Creek School District will send daily updates on School Messenger. That information will also be available at the district's website, www.bcs.k12.az.us.
Ward also said to "please stay in touch" with both Ward or with School Principal Katrina Sacco "if you would like to talk about the situation."
Led by Beaver Creek School District representative Allie Wheeler, the district's teachers will meet Monday to discuss plans beyond Thursday's walkout.
"As educators and staff working in a school, we are dedicated to our students," Wheeler said. "And our main goal is what will be best for our students and families."
-- Follow Bill Helm on Twitter @BillHelm42