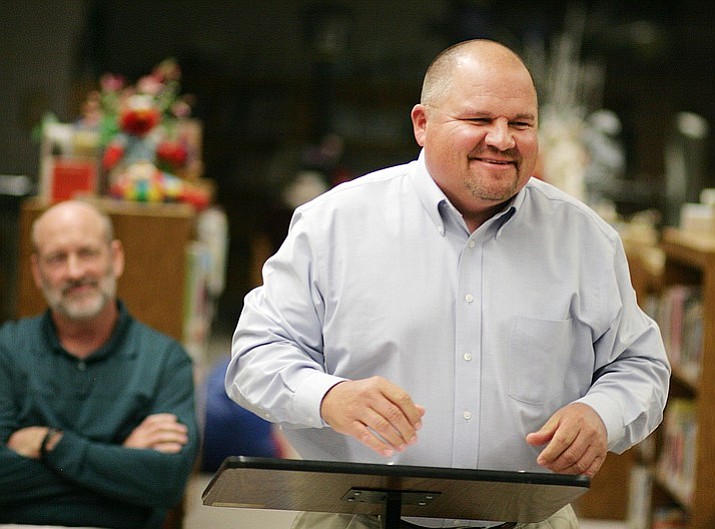 Originally Published: April 26, 2018 3:06 p.m.
CAMP VERDE – In his first few months as administrator-in-charge, Camp Verde Unified's Danny Howe isn't afraid to make changes to his district's administrative leadership.
Mark Showers, currently the assistant principal at Camp Verde Elementary, will swap places with Camp Verde High School Principal Jason Douvikas.
Douvikas will also become the district's mentor teacher and test coordinator.
For Showers, also the athletic director at Camp Verde High, stepping over to the high school as principal wasn't something he sought. Howe said that he asked Showers to take on the responsibility of leading the high school.
"What goes on at these campuses is a reflection of me," Howe said. "What I permit, I promote."
Howe said that when he took over as the district's administrator in charge, the school board "gave me a directive to promote a culture of customer service."
So, some changes need to occur," Howe said.
According to Showers, the customer service concerns were between the "high school and the community."
"I told him I was interested, as long as it would be a benefit to the district," said Showers, who spent 12-plus years as the high school's assistant principal, in between two different stints as the elementary school's assistant principal.
Intentionally instill character
For the past 21 years, Showers has been the high school's athletic director. With the promotion to high school principal, Showers will step away from his role leading the school's athletics. Though he will continue as the girls varsity basketball coach, Showers will hand over the AD duties to boys varsity basketball coach Dan Wall.
Wall will also return to the classroom to teach mathematics as he sheds his current title of assistant principal at the high school.
For Wall, his endeavor as a math teacher is to "help students understand the process of problem solving, teach them to think critically and demonstrate the numerous applications mathematics have to their daily lives."
Taking over the athletic director's role at the high school from his father-in-law, Wall said he plans to "carry on the vision of empowering our coaches to help our student athletes experience success in the classroom and in their competition environment."
"To be most effective with this goal, CVHS athletic programs will continue to intentionally instill character in our student-athletes," Wall said. "If we can assist students in developing responsibility, integrity, teamwork and perseverance on and off the court, we will continue to have a successful athletic program at Camp Verde High School."
Camp Verde Unified has also promoted history and mentor teacher Rod Benson to the high school's lead teacher for the 2018-2019 school year. Howe said he asked Benson if he would be interested in becoming the high school's assistant principal, but "he wanted to continue doing what he does."
Neither Benson nor Douvikas responded to inquiries for the story.
Howe's administrative leadership plan was approved April 17 by the school district's governing board.