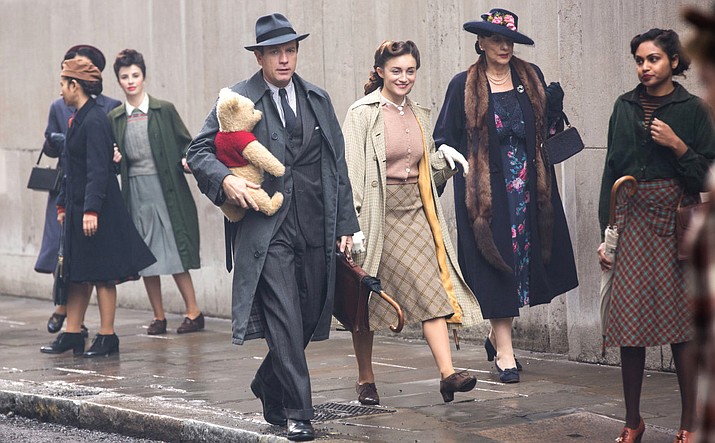 ---
---
There is a lot of pleasure that may be derived from Christopher Robin. But there is a lot of the movie that misses the target, namely the two types of audience.
For the positive side, there is the cinematography, showing the scenes in the 'hundred acre wood.' And the activities and the antics of Christopher Robin's animal friends are delightful to watch and listen to their conversation, ranging from simple but true, to outrageously wild.
It starts with Christopher Robin as a boy with his childhood playmates, Winnie the Pooh, Tigger, Piglet, Owl, Eeyore and a few others. They are CGI creations and some of the best of this kind I have seen. Winnie, Pooh for short, is quiet, shy, modest but with a winning personality. Tigger is hyper active; Owl is wise; Piglet is a nervous type and Eeyore is a pessimistic fellow who sees disaster in every incident, no matter how good it really is.
Christopher grows up and grows out of that world. As a young adult, he meets the love of his life, Evelyn (Hayley Atwell), and they marry. Evelyn gives birth to a daughter, Madeline (Bronte Carmichael), while Christopher is serving in the military (WWI).
Christopher, in his 30s, is a junior executive in a major luggage manufacturing company. He struggles to keep up with the business problems presented to him and tends to neglect his wife and daughter.
He has to cancel the week's vacation he planned because of a problem that demands immediate attention. Evelyn and Madeline go without him.
Meanwhile, we see Pooh awake one morning unable to find any of his mates. He leaves the hundred-acre wood, for the first time. He wants to get Christopher to help find his friends. In London, Christopher meets Pooh on the street.
He is amazed at the resurgence of the boyhood affection for Pooh. Christopher goes with Pooh back to the hundred acre wood. Reluctant at first, Christopher gets back to his boyhood attitude with the animals. They all get together and try to help Christopher get to his business meeting on time.
On the way they become friends with Evelyn and Madeline. The rush through London to the business meeting is exciting and funny.
Christopher realizes, when he faces tough issues at the meeting, that he suddenly cares less about the job than about his love for Evelyn and Madeline, and his gratitude to Pooh and the others. Let us hope this 'lesson' about what is important in life makes some lasting impression on the young viewers.
The animals will be a joy for younger audiences, but much of their utterances may be over their heads, like the unraveling of Christopher's anguish of job versus family.
On the other hand, that conflict is not unfamiliar to adult audiences. There are no surprises in the denouement of Christopher Robin and, of course, we are pleased at the outcome.
Christopher Robin is at Harkins Sedona 6 Theater.