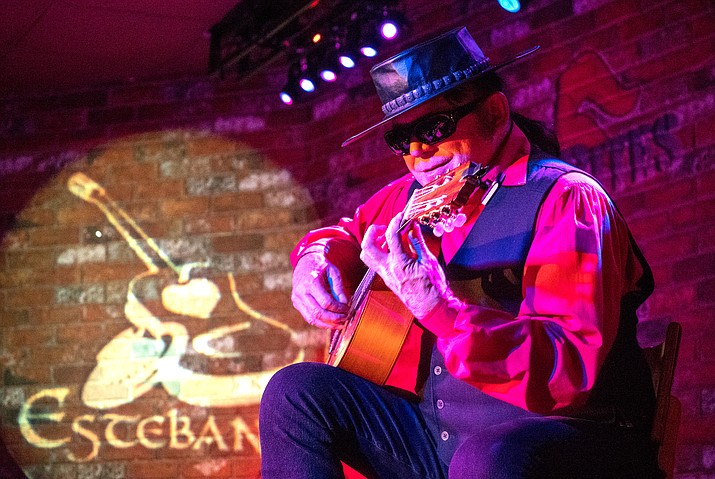 ---
---
Enjoy the vortex energy of master guitarist Esteban while taking in Sedona's stunning red rock views at the Sound Bites Grill, 101 N State Route 89A, F29, where the legendary musician plays as the artist in residence at 7 p.m. on select weekends.
Esteban in Sedona – 2018 Fall/Winter Schedule
• August 11
• September 1
• October 27
• November 10
• December 22
Come experience classical Spanish fusion with a contemporary rock influence along with Esteban's full band. Accompanying him is renowned violinist and daughter Teresa Joy.
Between Esteban's guitar and Teresa Joy's violin are Grammy award-winning drummer Joe Morris and Raul Yanez, pianist and Arizona State University professor of music, who both breathe loving melodies and beats into beautiful Spanish classical music and newly composed songs fused with many old favorites – a mix of music from Bach to rock.
For tickets and information, visit soundbitesgrill.com.
With multi-hued rock formations providing a mesmerizing backdrop, Sound Bites Grill offers an intimate dinner theater experience for Esteban's passion and explosive style of play. Each seat is within a few feet of the stage allowing guests to see and feel every detail of the performance.
Esteban and Teresa Joy's uplifting music from the heart will touch a gamut of emotions in this one-of-a-kind live show described as "The best concert we have ever been to" and "His music touched my heart with an experience I've never felt before."
"Sedona is such a magical for us place to perform," said Esteban. Let us share the musical energy from our hearts to yours."
A Valley favorite who launched his career in Arizona, Esteban and Teresa Joy played in the mid-nineties at the Hyatt Regency Gainey Ranch in Scottsdale, where they won "Best of Phoenix" for eight years. Still on the hearts and minds of fans, Esteban has a dedicated following at current concerts that continue to celebrate memories of those days in Scottsdale.
Renowned for his emotive performances and exemplary classical and flamenco guitar, the critically acclaimed Esteban has toured the country and topped Billboard charts with numerous albums, videos and DVDs. For more information on Esteban, his music and show schedule, visit estebanmusic.com.