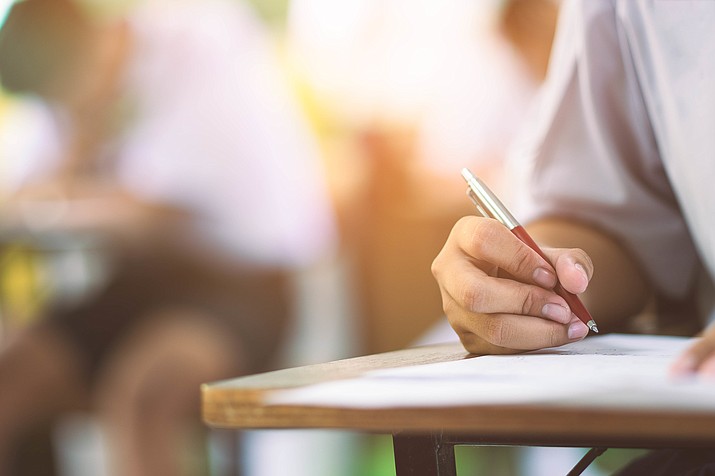 Originally Published: August 18, 2018 2:30 p.m.
Is a few days' worth of testing an accurate reflection of a school's culture, and by extension, how it educates its students?
Though it's important to hold schools accountable as they endeavor to educate, testing such as AzMERIT is "not the only measure of a school's overall success," according to Tamara Becker, assistant superintendent of Instructional Support at Edkey, Inc. Sequoia Schools, the parent company of American Heritage Academy's K-8 Camp Verde and K-12 Cottonwood campuses.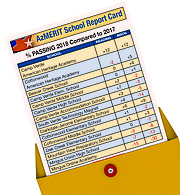 Following a 29-percent passing score in English Language Arts (ELA) and a 26-percent passing score in mathematics in 2016-2017, Eric Evans, principal at the charter school's Cottonwood campus, took what Becker called a "proactive approach."
"He knew that educating students on the importance of doing their best on all work [and] assessments was the culture change that was needed to make the positive outcomes evident for the students," Becker said.
Becker cited daily reminders during the school's morning flag ceremony that "promoted the importance of integrity and producing the best possible outcomes on classroom assignments, tests [and] organization-wide assessments" as reasons why the Cottonwood campus saw a 5-percent increase in percent of students who passed their mathematics testing.
At the program's Camp Verde campus, growth was 12 percent in both English Language Arts and mathematics.
Though the Cottonwood campus saw a 2-percent dip in its students passing of the English Language Arts testing, Evans and Becker have worked "to find instructional resources that would create a foundational learning experience for students at AHA Cottonwood," Becker said.
Those resources, she said, are "being implemented with fidelity starting this school year."
Becker also found it important to point out that AzMERIT scoring "reflects proficiency rates which account for only 20 percent of the overall A-F letter grade calculations."
AzMERIT scores for the state's schools can be found at: https://b4.caspio.com/dp/55073000ac7cf674b5974daf815f.
Foundational reading skills
At Beaver Creek School District, the percentage of students who passed their mathematics testing increased to 21 percent, a gain of 6 percent.
Perhaps one reason why the district experienced a noticeable improvement in mathematics testing is that the 2017-2018 was the district's fourth year using the Envision program, which according to Katrina Sacco, the school's principal, has a "strong student-centered focus, and many built-in intervention components."
"Generally we see a three-year lag between implementation and results with a new curriculum," Sacco said. "So I attribute some of our growth to the successful implementation" of Envision.
English Language Arts, however, stayed level at 20 percent. Sacco said that the school's focus is to "improve reading instruction through stronger emphasis on foundational reading skills."
As she considers the proverbial 'bigger picture,' Sacco also said that by focusing on the school boosting its achievement on foundational reading skills supports, students are able to improve "their abilities to read word problems and decipher details in math content."
Positive impact
Camp Verde Unified's overall increase in the percentage of students who passed AzMERIT's English Language Arts component is a reflection of the district's leadership, according to Dennis Goodwin, whose tenure as the district's superintendent ended on June 30.
Though the percentage of Camp Verde Elementary School students who passed the English Language Arts component remained at 32 – same as the prior year – the "new writing curriculum [Principal Britta] Booth and her staff brought into the school last year will show progression in reading scores in the future," said Goodwin, the superintendent at Murphy Elementary School District in Phoenix.
The middle school's 2-percent increase in students who passed the English Language Arts component, said Goodwin, benefited from a "stronger ELA department that over the last few years has had a positive impact on reading scores."
"It takes years for some of the curriculum and teacher led efforts to have that positive test score improvement," Goodwin said.
The high school's 7-percent increase in students who passed the English Language Arts component "is once again on the teachers," Goodwin said.
"They focused on reading progression with the students with [former high school Principal Jason] Douvikas, and it showed in the test scores," Goodwin said.
The district's percent of students who passed the mathematics component decreased in all schools except for the elementary school.
For the high school, Goodwin said that the reassignment of Dan Wall "to the math classroom will benefit a strong math department."
Danny Howe, administrator in charge for Camp Verde Unified School District, did not respond to questions on Camp Verde's AzMERIT scores.
-- Follow Bill Helm on Twitter @BillHelm42