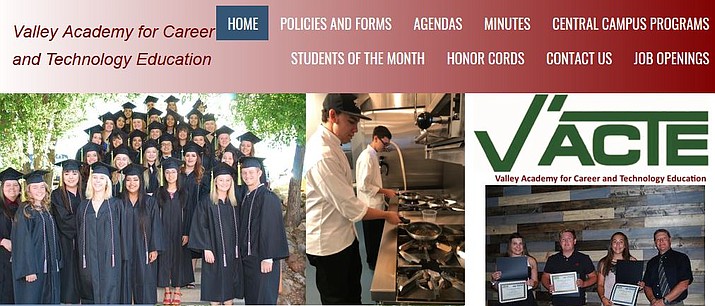 Originally Published: August 27, 2018 11:43 a.m.
Updated as of Tuesday, August 28, 2018 9:18 AM
COTTONWOOD – If voters one day decide that the Mingus Union and Cottonwood-Oak Creek school districts should consolidate, the new school district would still be a member of Verde Valley's joint technical education district.
That's what Todd Bayne of the Arizona Legislative Council said in his "first attempt at statutory language" to ease any concerns over whether a merger of the two districts would put a halt to students' access to career and technology education.
In an email to Arizona Sen. Sylvia Allen, Bayne said that should voters approve the merger of the two districts, the "successor school district," would "automatically step into the shoes of Mingus Union and Cottonwood-Oak Creek as a member of VACTE."
As a response to what Bayne called "membership and governance concerns raised by the passage of S.B. 1254 last session," the following language is proposed to be placed into a new statute designated as Section 15-397:
"Notwithstanding sections 15-395 and 15-395.01, if a school district that was participating in a career technical education district at the time that the school district was unified or consolidated pursuant to Chapter 4, Article 3 of this title, the successor school district that results from that unification or consolidation shall automatically continue to participate in that career technical education district in the same manner as the former school district that was unified or consolidated."
Valley Academy Superintendent Bob Weir said he is "looking at the language and pleased that they are working on it to help all schools and CTED's in the state if unification or consolidation happens."
Weir said that the statutory language "will help with the unknown to these mergers."
"The only thing we still will need to address is the governing board membership of how it can be restructured if a merger is successful," Weir said.
Weir also said that the Valley Academy Board will discuss the statutory language "in detail" at the board's Sept. 4 meeting, then will send suggestions to Yavapai County School Superintendent Tim Carter.
Weir said he and the state's CTED superintendents will discuss the statutory language at their next monthly meeting, scheduled for Sept. 5.
According to Carter, the proposed statutory language is "brief and to the point."
"It is also an enduring provision, which simply means it could apply to any CTED [career and technical education district] situation in the future that results from consolidation or unification," Carter also stated.
The Sedona-Red Rock, Camp Verde Unified and Clarkdale-Jerome school districts continued participation with the JTED, Valley Academy of Career and Technology Education, "would not be affected by the consolidation," Bayne also said.
-- Follow Bill Helm on Twitter @BillHelm42
More like this story