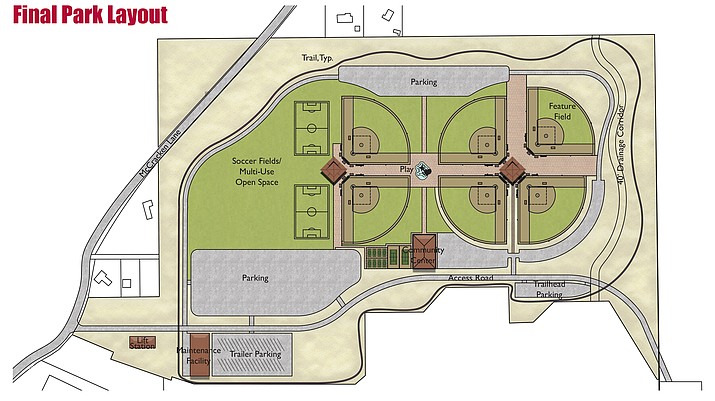 Originally Published: December 22, 2018 12:32 p.m.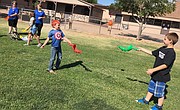 Though its completion is a few years down the road, the Camp Verde Sports Complex is on its way to becoming a reality, as construction – the leveling of dirt – has begun on Phase I of the 110-acre project.
Located off SR 260, work commenced last winter on the grading, storm water, drainage and infrastructure for the entire complex, "and is now nearly complete," said Mike Marshall, Parks and Recreation division manager, as "this phase graded the entire site to the appropriate levels, dealt with storm water and drainage issues as well as the infrastructure needed to support the park. This road, water supply, sewer and electric work will allow us to easily construct the fields, playgrounds, bathrooms, sports courts, parking lots and other amenities."
A sizeable project no doubt, the complex is on the short list of Parks and Rec's list of things to celebrate in 2018.
Number one on the list, the return of Summer Day Camp, which several years ago was the "victim of downsizing," said Parks and Recreation's Shawna Figy.
This year, camp returned after two years of planning and work. Led by standards from the American Camp Association, Parks and Recreation staff developed what Figy called a "whole new camp program current with today's expectations and needs."
"Although there was a small enrollment for this inaugural year, campers had a consistently fun filled camp experience for eight weeks this past summer," Figy said. "Staff, campers and parents enjoyed a successful camp due in part to the vigorous standards from the American Camp Association."
Certified professionals
Also in 2018, both Marshall and Figy were recognized in October as Certified Parks & Recreation Professionals.
National Parks & Recreation Association awards the status to professionals who meet the education, work and testing standards required.
"Our state affiliate, the Arizona Parks & Recreation Association, promoted a discounted review and testing program last spring to increase the number of certified people in Arizona," Marshall said. "And we took advantage of the opportunity."
Earlier this month, Parks and Recreation oversaw the construction of a perimeter loop trail around the Sports Complex, which is expected to open in January.
The trail, a 10-foot wide walking and biking trail will circle the complex and allow the public to watch its progress up close and personal.
Partially funded by a $78,248 grant from Arizona State Parks & Trails, Figy said that the trail "will allow exercise and recreation opportunities around the complex and includes spectacular views from all areas."
An associated trailhead parking lot will create access to additional trails in the White Hills through the Coconino National Forest, Marshall said.
Other Camp Verde Parks and Recreation highlights from 2018:
• Rezzonico Park next to the Community Library saw a major face lift and resurgence this year. Thanks to Capital Improvement funding, grants from Arizona State Forestry and One for the Verde, Rezzonico Park now has two picnic ramadas, a walking path and hundreds of new trees, shrubs and plants supported by a new irrigation system.
The 1,150-foot path winds through the park with opportunities for exercise, enjoyment of the new vegetation and views of the river and soon, plenty of interpretive signs and panels.
• Parks and Recreation also "tweaked, adjusted, examined and improved pretty much all our programs this year as part of our ongoing commitment," Marshall said.
"We saw big increases in participation in our Trunk or Treat Main Street, Christmas Craft Bazaar and Parade of Lights events," Figy said. "This year also saw us implement an on-line registration software program for all of our activities. In addition to making it easier to find, register for and enjoy our programs, it allows us to better track and communicate with participants. This coupled with our growing social media presence is helping to spread the word about our activities."
• Camp Verde Heritage Pool now has a full-time seasonal pool manager. According to Marshall, the pool manager "added to consistency in supervision and customer service at the pool."
-- Follow Bill Helm on Twitter @BillHelm42