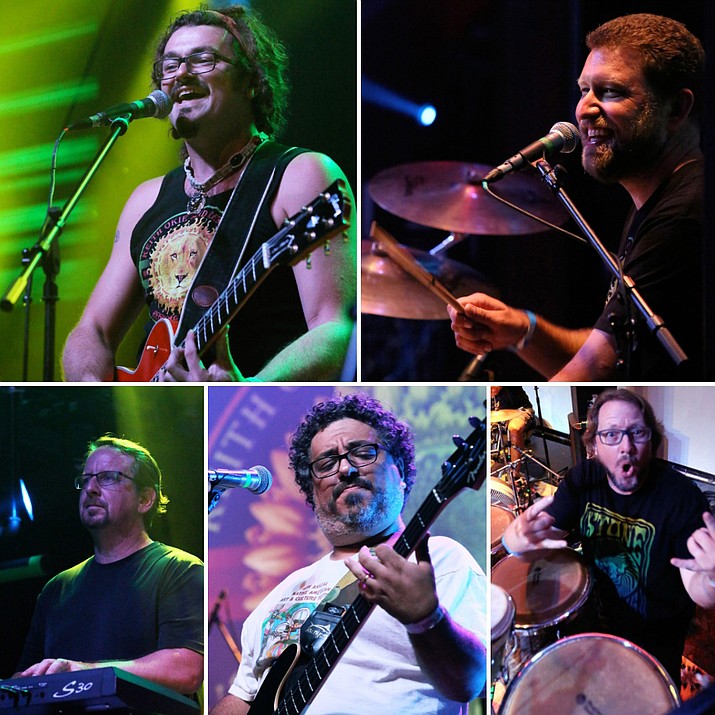 ---
---
Wednesday, Dec. 26, Cottonwood Main Stage will present the 6th annual Danny Rhodes Memorial Blues Summit from 6 p.m. to midnight.
Rhodes, guitarist, singer and songwriter, became a fixture in the local Northern AZ music scene from 1996-2007, as well as touring the United States and taking his music to all corners of the country. Danny is remembered for giving energetic live shows, showcasing his virtuoso guitar playing, soulful voice, and his unique songwriting style, taking his inspiration from the blues, funk, New Orleans jazz, funk & blues, and 60's-era rock music.
The Who's Who of Arizona blues musicians will be coming out to pay tribute to the legacy of Mr. Rhodes. Tom Grills, from Phoenix, is the featured guest of the evening. Grills is best known for playing alongside Arizona Blues heavyweights such as Arizona Blues Hall of Famers Tommy Dukes and Big Pete Pearson.
Hosting the event will be Danny's son Gabriel Rhodes. Co-hosting the evening will be Christian Michael Berry, head of Northern AZ Blues Alliance.
This event is 21-plus and free to the public.
Friday, Dec. 28, there will be a special birthday bash for one of Main Stage's regular favorite performers, DJ Johnny K. Joining Johnny K will be two of the Verde Valley's other favorite DJs, DJ Jes and DJ Ill.Ego. Starting at 9 p.m., this powerhouse trio will spin all your favorite top 40 hits, old school, EDM, Trap, Reggaeton and everything in between. This is a 21-and-over event with no cover charge.
Saturday, Dec. 29, Main Stage will host a special Saturday night version of "This Ain't Your Grandma's Bingo" with hostesses Penny Smith and Rebecca Riffel. The Danny Rhodes Blues Summit on Wednesday night gives Main Stage the opportunity to entertain the Bingo night's regular players and newcomers on a more convenient weekend night. Cards are $1 each to play and there is no cover charge. You must be 21+ and the games begin at 7 p.m.
Monday, Dec. 31, Main Stage presents NYE Bash 2019 with Keith Okie & Rebel Sol and DJ ill.Ego starting at 7 p.m. Keith Okie & Rebel Sol, Northern Arizona's best soul-reggae band, will play from 8-11 p.m. with Valley favorite, DJ ill.Ego, spinning the rest of the night, 11 p.m. to 2 a.m., at the biggest NYE party in town. Party favors, hats, drink specials and a special midnight confetti drop round out the night. This is a 21+ event with a $5 cover at the door.
Main Stage has a series of nightly events the remaining nights of the week as well. Mondays feature Latin dance classes with Dana De Luz at 6:30 p.m. then karaoke with hostess Christa Cave at 8 p.m.
Tuesdays are swing dance class with Dana De Luz at 6:30 p.m. and then karaoke with host Braiden Campbell at 8 p.m. Wednesdays are "This Ain't Your Grandma's Bingo" with hostesses Penny Smith and Rebecca Riffel.
Attendees play for cash and prizes starting at 7 p.m. Thursday nights starting at 7 p.m. is Pub Trivia with Brett and Candy.

Main Stage is located at 1 S Main St in Cottonwood and is open Monday through Saturday 11a.m. to close and closed on Sundays. All events are free to the public unless otherwise noted.