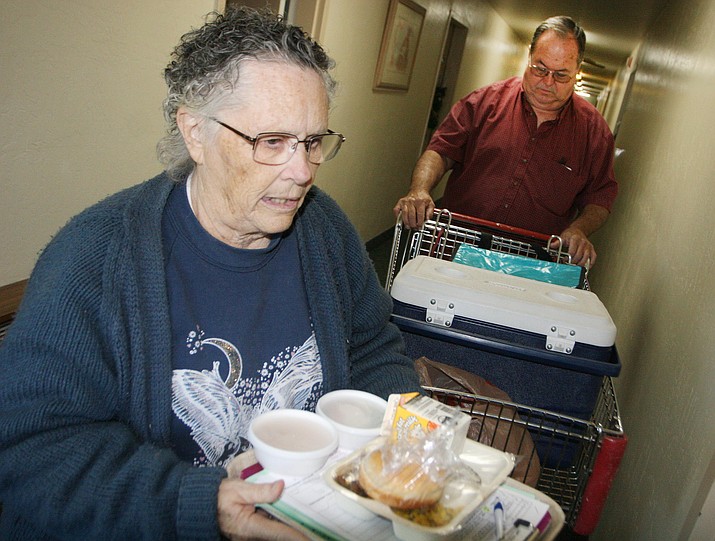 Photo by Bill Helm.
Originally Published: February 1, 2018 8:37 a.m.
Updated as of Friday, February 2, 2018 1 PM
VERDE VALLEY – For some people, it's the only hot meal they get on a given day.
In Camp Verde, about 50 senior citizens rely on the Verde Valley Senior Center's Meals on Wheels program, because they cannot cook or they cannot get around, says Marie DeClue, one of the center's volunteer drivers.
DeClue and her husband, Ron Posten, deliver hot meals to about 25 seniors on Mondays and Tuesdays.
"It's a very needed commodity," DeClue says.
About two years ago, the couple attended a Camp Verde Town Council meeting and listened as the Senior Center's executive director asked council for a little financial help.
Elaine Bremner "made her pitch to council," DeClue remembers.
Though council made no commitment to spend money on the program, DeClue and Posten decided they could help.
Not with money – but with their time.
"I put in my application," DeClue says. "I started out one day; then an emergency case came up."
Roughly five hours each week, DeClue and Posten make their deliveries each week. Though some days go longer than others, "depending on how much we gab," she says.
"We get pretty friendly with them," DeClue says. "About 90 percent of the cases, it's the only food they get each day. In some cases, they eat the entrée for lunch and the rest is their dinner.
Two weeks each year, DeClue also fill in for vacationing volunteers. Those weeks, the pair delivers meals each day, Monday through Friday.
On those days, they drive about 125 miles, including to and from the Cottonwood senior center.
DeClue says she's committed to the work they do at the Senior Center. But the program "need[s] more drivers."
Says Geri Manzella, Meals on Wheels Coordinator for the Verde Valley Senior Center, there are 14 routes each Monday through Friday, and about 50 drivers are currently filling them.
"It would be nice to have an abundancy of drivers for on-call as well as for the daily routes," Manzella says. "Unfortunately, we're always short."
The Verde Valley Senior Center needs Camp Verde drivers, Manzella says.
Drivers work about two to three hours, DeClue says. They pick up meals between 11 a.m. and 11:30 a.m. and spend about 90 minutes delivering the meals, Manzella says.
Drivers are compensated with mileage reimbursement and with a free meal each day they deliver meals, Manzella also says.
For more information about volunteering with the Verde Valley Senior Center, contact Geri Manzella at 928-634-5450.
-- Follow Bill Helm on Twitter @BillHelm42
More like this story