Originally Published: February 3, 2018 4:09 p.m.
CAMP VERDE – Due to repeated vandalism, the Town of Camp Verde decided Thursday to close its skate park for eight days, then decided less than 24 hours later that it would immediately reopen the park.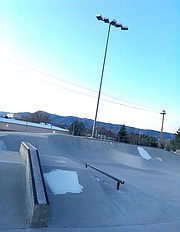 Both Public Works Director Ron Long and Parks and Recreation Division Manager Mike Marshal said Friday in separate conversations that the Town has no desire to close its community's prized facilities.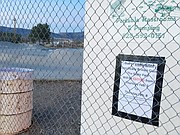 Thursday, Town staff posted signs on the port-a-potty within the skate park which stated that "due to vandalism, specifically broken glass, the skate park will be closed from Thursday, Feb. 1 to Thursday, Feb. 8."
By mid-morning Friday, Town staff met, then decided to reopen the park that had been closed Thursday afternoon.
According to Marshall, "seeing a father teaching his son how to ride a skateboard" motivated him and Town staff in the internal meeting to reopen the park.
"We do have a vandalization problem at Parks and Recreation facilities," Marshall said. "But we don't want to punish kids who are behaving and having a good time, just because someone else is doing something wrong."
The skate park, open from "sun-up until 10 p.m." according to Marshall, experiences vandalization problems "in waves."
"We know it's a small number of people," Marshall said. "It's also something you cannot ignore or accept as a cost of business."
Damage to the port-a-potty, as well as broken glass and graffiti are the most common forms of vandalism to the skate park, Marshall said.
"It's frustrating for us, the extra time and extra money, [the damage] also exposes users to injury," Marshall said.
Which led to the initial closure of the park, Marshall said. Not because of maintenance, but was it punitive?
Marshall said "not necessarily," though closing the community center gymnasium to the public due to vandalism is something the Town has had to do "a few times."
"The initial closure was due to one of the things we've found with the gym," Marshall said. "It gets people's attention, and it's gotten us positive results and dialog. Sometimes we take some heat, but people are talking and becoming aware of the issue. It's not something we like to do."
According to Long, the Town is "hoping to get the peer groups to develop a culture where they say 'Hey, this is our skate park. Stop destroying it.'"
At this time, the Town has no surveillance system in place at its skate park, swimming pool or community center gymnasium. But Marshall and other Town staffers are "talking about it."
-- Follow Bill Helm on Twitter @BillHelm42