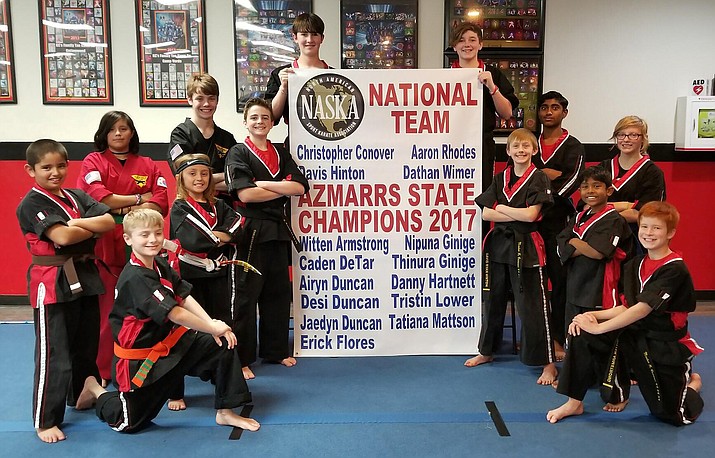 Originally Published: February 3, 2018 1:45 p.m.
On Jan. 20, Team KC's (from KC's Family Tae Kwon Do in Cottonwood) was representing big in sport karate competition, in two cities at one time, more than 1,700 miles apart.

Their coach, Master Karen Conover, always believes in following through on big ideas. So when she found out that the Arizona State Championship Karate Tournament was to be held on the same day as the season opener for the North American Sport Karate World Tour, she found a way to get her teams to both and shine.
This year, KC's created a National Competition Team and they plan to compete on the NASKA World Tour, right alongside and against the very pros they study from and idolize.

Their first tournament, the AKA Warrior Cup, was held in downtown Chicago and it was the first time away from family for a few of them. The team is comprised of four black belt members – Christopher Conover (age 15), Davis Hinton (age 12), Aaron Rhodes (age 15) and Dathan Wimer (age 14) and they were accompanied by parent chaperones for the trip, while Conover stayed in Arizona for the championships.

All four team members chose to forgo the state championships in search of higher learning at the professional level.

"Chris began competing nationally last year and it was his inspiration that got the other guys ready and excited to step up for more," Conover said. "They had a great opening tournament, each and every one of them placing in the top half of competitors in their divisions, amongst the best in the world. They learned a lot!"
She went on to say that it takes time to figure out a new circuit and what judges want to see at this elite level, but the KC's National Team came home more inspired than ever and are already upping their game and preparing for their second World Tour event, the Compete Nationals, in Ontario, California at the end of February.
After hearing from the National Team and their results from Chicago that morning, it was then time for the KC's local tournament team to step into the ring that afternoon for the AZMARRS State Championship for the 2017 Season.

Conover huddled everyone up just prior to the event to give some final pointers before going on stage.

"Be confident, be loud, and do your very best."

Fifteen individual competitors from KC's, ranging in rank from beginner through black belt, qualified for and competed at the tournament, held in Gilbert and 11 of them were crowned State Champion in 20 events total.

Events included sparring, creative open forms, traditional forms and weapons forms. KC's students have earned State Champion titles every year for the last ten years, definitely the result of hard work, consistent training and commitment.
This year's AZMARRS State Champions from KC's Include:
Witten Armstrong (age 11) – Black Belt Musical Forms
Caden DeTar (age 8) – Beginner Open Forms
Airyn Duncan (age 9) – Intermediate Traditional Forms and Point Sparring
Desi Duncan (age 12) – Intermediate Point Sparring and Continuous Sparring
Jaedyn Duncan (age 10) – Intermediate Weapons Forms
Erick Flores (age 10) – Advanced Open Forms
Nipuna Ginige (age 13) – Advanced Open Forms and Traditional Forms
Thinura Ginige (age 8) – Beginner Traditional Forms and Weapons Forms
Danny Harnett (age 14) – Advanced Traditional Forms and Weapons Forms
Tristin Lower (age 11) – Beginner Open Forms, Weapons Forms, and Point Sparring
Tatiana Mattson (age 14) – Intermediate Open Forms, Weapons Forms, and Point Sparring
For more information about KC's tournament teams or programs, please call 928-634-5165 or stop by their school at 280 S. Main St. in Cottonwood.