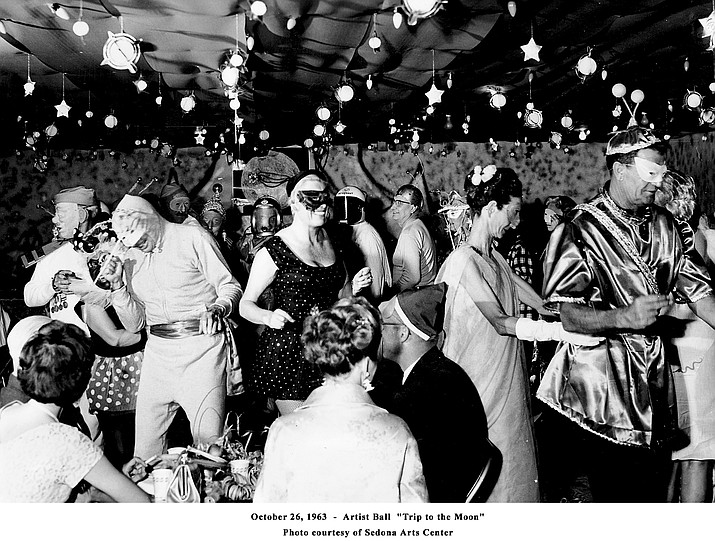 ---
---
In Celebration of Sedona Arts Center's 60th Anniversary, the Arts Center will be hosting a groovy "Love-In" 60s-themed dance on Feb. 10.
With Sedona Mayor, Sandy Moriarty as the Honorary Flower Child and Shondra Jepperson as DJ, this 60s-themed dance is sure to be a night to remember. The dance will take place at Sedona Arts Center in Uptown and it will be a campus-wide event that includes 60s themed food, beverages (adult and otherwise), merrymaking and shenanigans galore. 
"What a cool opportunity to revisit the era of the Arts Center's birth! Bell bottoms, flower children, incense and especially the music. Board members have had a blast planning this event! I look forward to seeing a group of artists and art lovers interpret the memories!" says Executive Director, Vince Fazio.
The dance will take place from 6 to 10 p.m., Feb. 10 and tickets are on sale right now for $60 each or $100 per couple at SedonaArtsCenter.org. Guests are encouraged (but not required) to go all out and wear their finest tie dyes, mods, minis, bells and beads for their close up at the keepsake instant-camera photo booth.
The night of the dance, the Arts Center's Theater Studio in the Historic Art Barn will be entirely transformed into a retro 60s-themed dance, ala creations by Rayna Griffen. Shondra Jepperson will be our groovy guide throughout the evening as M.C. and D.J. and Mayor Sandy Moriarty is our honorary flower child.
60s morsels will be prepared and served by the Arts Center's in-house caterer, Melanie Gold. They'll wet your whistle with offerings of wine, beer, non-alcoholic punch and maybe a cocktail from the 60s. Games such as best dance couple, best dressed and a Hula Hoop contest will take place throughout the evening. Last but not least, a photo booth with a memory photo of each couple or person. 
 Sedona Arts Center is one of Northern Arizona's most well-established cultural organizations and serves as the creative heart of Sedona, and is located 15 Art Barn Rd.
For more information, visit SedonaArtsCenter.org or call 928-282-3809.