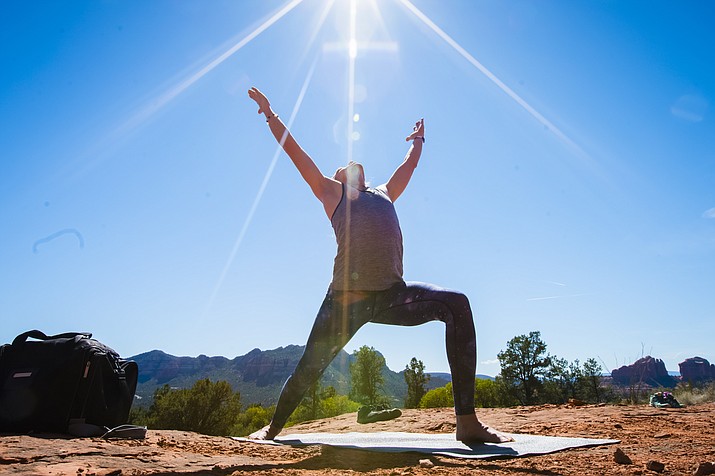 ---
---
As a catalyst of personal evolution, yoga helps us tap into the myriad forces governing our mental, physical and spiritual selves.
As an engine of collective evolution, the practice of yoga connects the individual to the universal—helping to channel millions of tiny wavelets into a tsunami of undeniable power and possibility.
From Feb. 8–11, that wave is set to crest at the Sedona Yoga Festival (SYF), with the Sedona Performing Arts Center as its hub, located 995 Upper Red Rock Loop Rd.
As the festival enters its sixth year, conference organizers acknowledge that the world into which SYF was born has experienced some dramatic shifts—societal and energetic changes that have left the conscious community feeling unmoored. Knowing that collective change begins with personal change, SYF2018 invites attendees to "Shift Your Perspective," and learn to lead from the inner teacher.
"Even in the festival's first year, we witnessed such incredible power in collective vibration," says Festival Director Heather Sherée Titus. "This year, with so many people in a state of psychic drift, it's more important than ever to help our attendees anchor themselves to positive universal energies. Together, we amplify."
Nestled among Sedona's famous red rock formations with access to local trails and scenic drives, the Sedona Performing Arts Center, located 995 Upper Red Rock Loop Rd., provides attendees with a spacious hub for the majority of conference activities—with a variety of satellite venues hosting workshops and classes as well.
Grounded by a spirit of effortless action, SYF2018 coursework is a beautiful balance—between education and celebration, between master teachers and the new vanguard, between absolute beginners and lifelong practitioners. As always, pre- and post-conference offerings include immersive workshops and events for yogis of all levels.
In addition to classes and workshops featuring yoga, energy medicine, meditation, sound healing, Ayurveda and much more, attendees are invited to explore the Conscious Expo in the festival's bustling Heart Center Village—including, dharma talks, conscious vendors, dining options, panel discussions and a relaxing sound lounge. In the spirit of community, SYF has also added a non-stop kids' yoga program to the 2018 schedule so families can enjoy the conference (and Sedona) together. The festival's "extracurricular activities" are also aligned with spirit of collective transformation.
Sedona Yoga Festival 2018 kicks off at 6:30 p.m. on Thursday, Feb. 8 with a special opening ceremony. For schedules and tickets, visit www.sedonayogafestival.com.