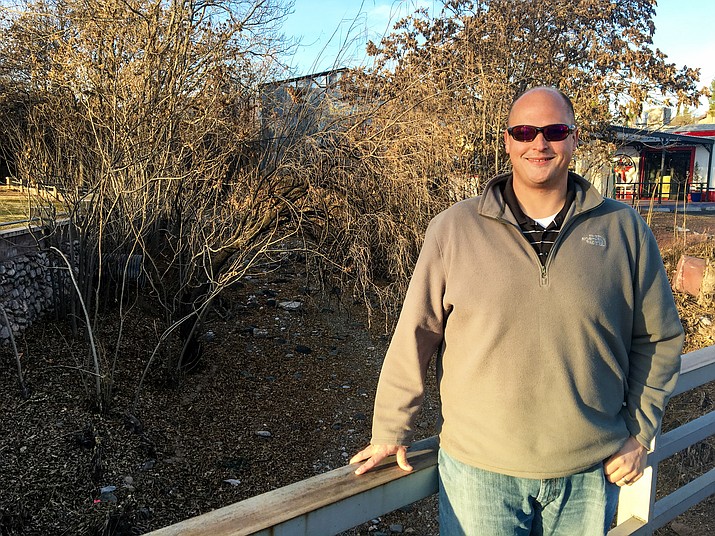 Originally Published: February 6, 2018 12:51 p.m.
COTTONWOOD -- Long-time residents may remember when Old Town Cottonwood flooded in 1964, filling houses, businesses and the old hospital with water and mud.
Del Monte Wash, also known as "Blowout Creek" due to its history of overflowing, has caused extensive flood damage to the Old Town area in the past. The bridge where Del Monte meets the curve on Main Street is an identified problem area – water backs up at the bridge, overflows into the roadway and fans out toward the rest of Old Town.
In 2014, the Federal Emergency Management Agency map revision process issued new floodplain maps for the city. Based on data at the time, some moderate- to low-risk areas along Del Monte Wash were remapped as high risk. This resulted in changes in building and flooding insurance for Old Town residences and businesses.
The City of Cottonwood is now is working with FEMA and the Yavapai County Flood Control District on a study to re-examine flood risks along Del Monte Wash. The project will also develop digital flood hazard maps.
The study will look at the area along the wash from State Route 89A, through Old Town, to where the wash empties into the Verde River.
"The goal of this study is to redefine the limits of the floodplain based on a detailed study and develop strategies to reduce the impacts of flooding," City Engineer Robert Winiecke said.
Winiecke says another reason for the study is to alleviate the flooding insurance burdens in the Old Town area.
"The big problem is, by this change, you have to have flood insurance now if you have a mortgage on your property … regulations say that can go up 12-percent per year – people are faced with large increases with insurance. That could be thousands of dollars per year. If you've got limited income, it makes it very difficult to afford," Winiecke said.
A letter sent to homeowners by Winiecke stated while there may be new areas identified as high risk, the overall width of the high risk area will shrink, resulting in lower flood insurance costs.
Collecting more detailed flood risk information will assist the town with determining preventative actions for dealing with floods such as the one that occurred in 1964.
Preliminary results are anticipated for early fall of this year following FEMA review and acceptance of the data. Revised flood maps are not likely to be effective until later this year or early 2019. A 90-day public comment period will be issued prior to accepting the maps.
Winiecke says he's received positive feedback so far.
"We've been receiving some phone calls regarding the letter that was sent out, and it sounds like so far everybody's happy the city is trying to do something about this, which is nice. It's good to hear that feedback," Winiecke said.
Upon completion of the study, the City of Cottonwood will determine potential projects to reduce the extent of flooding in the area, such as improvements to the main channel or structural measures. At that point, another study to assess flood risks could be completed, but could take years to complete, Winiecke said.