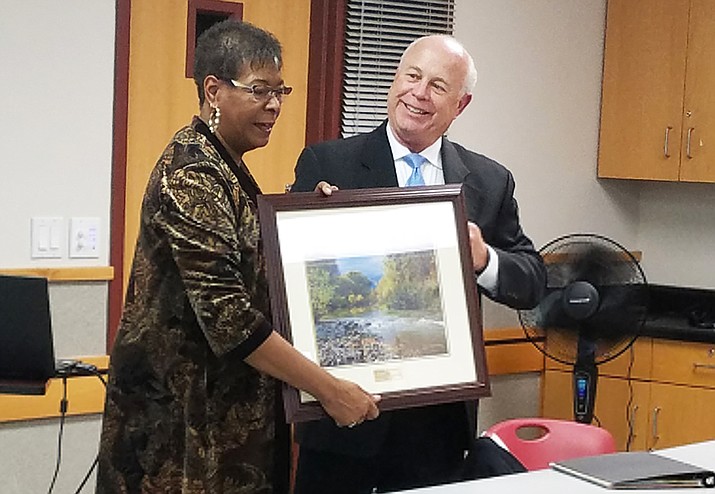 Originally Published: February 6, 2018 11:51 a.m.
Vanessa Ward retired as Cottonwood Public Library's Director Friday, Feb. 2 after 22 years when she was first hired as a part-time temporary conversion aid in 1993 and then onward as a full-time conversion aid.
Next she filled the shoes of the Library Coordinator and began supervising the Adult Services department. In 2009 her job took a turn whereby she started overseeing the Youth Services department in conjunction with her regular duties. In 2011 Ward was hired as the Library Manager after John O'Neill retired.
"Vanessa's tenure is marked by her energy, determination, and character. Her willingness to listen to patrons and to respond to requests whenever possible, created much of what the library is today," said the City of Cottonwood in a news release.
During Ward's leadership as Library Manager, the Library became the heartbeat of the community and Verde Valley as a wealth of programming became the norm over the past seven years. Programs such as Paws to Read, Preschool Story Time, Teen Library Council, Tiny Tot Time, Family Craft Hour, and Family Movies are just a few examples of how the library is helping the youth of the community today.
Adult Services expanded to encompass book discussion groups, writing groups, Seed Library and free Spanish classes along with the OverDrive eBook and Tablet Time training programs.
Ward's tenure also saw many projects take shape at the library as well. The parking lot was resurfaced, two parking stalls were added along with a new media drop-box, document station and new water fountains installed. Technology infrastructure was upgraded and the timeworn carpeting was replaced along with a huge re-upholstery project for all chairs in the facility.
Just recently the circulation desk was refurbished and a beautiful new matching reference desk was acquired. In 2014, Vanessa won the City of Cottonwood Employee of the Year Award.
Vanessa was a great mentor and a "rock" for the library for 22 years, said city officials.
"Above all, Vanessa's goal was to give our community what they requested, to bring the people into the library, to create a safe and comfortable place for all, and ultimately, to make it 'the best deal in town.' We all wish Vanessa good luck and congratulations for making the library a wonderful city asset that is vibrant, warm and a continued place to enjoy and socialize."
More like this story