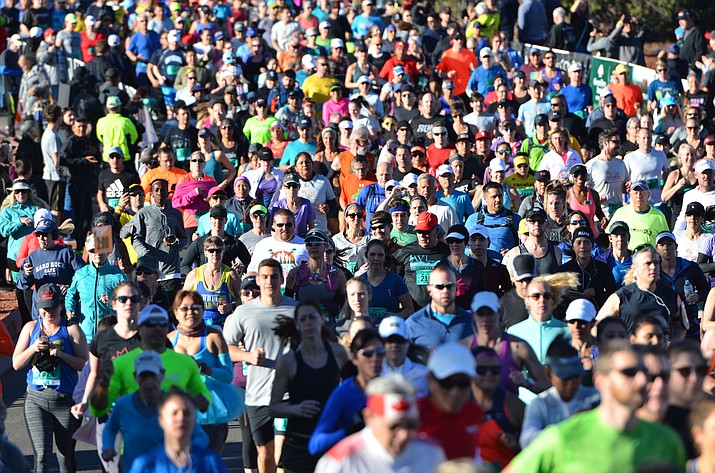 Originally Published: February 6, 2018 12:54 p.m.
Photo Gallery
Sedona Marathon 2018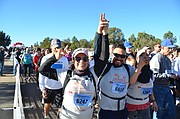 Runners start the Sedona Marathon's half-marathon Saturday morning in beautiful weather. More than 3,000 runners in several races. VVN/Vyto Starinskas
On a perfect 70-degree winter day, registrants from 48 states, and 10 countries raced through Sedona's beautiful red rocks in the 13th annual Sedona Marathon Event presented by Northern Arizona Healthcare. Final results are posted at SMEresults.com. The top three male and female finishers have been recognized below.
Some 240 registrants took on the full marathon challenge. This hilly course is one of the most difficult in the country as 60 percent is on a red dirt road and none of it is easy.
The Full Marathon Men's Division was dominated by Flagstaff runners. Adam Owens from Flagstaff took first by a long shot with a time of 2:55:55, followed by Gary Krugger from Flagstaff at 3:10:17. Sedona local athlete Drew Frehs earned third place with a time of 3:11:47.
In the Full Marathon Women's Division, Mamiko Berger from Saipan, Northern Mariana Islands, earned first place with a time of 3:37:25; over 15 minutes ahead of her closest competitor. Maria Ladd from Albuquerque, NM, who ran a 3:55:07 was followed by Mallory Ortego from La Plata, NM, who ran a 3:57:40.
The 2018 half marathon was the largest to date with 1,170 registrants.
In the Half Marathon Men's Division, Rodell Williams from Chinle, AZ went a 1:18:25 for first place. In second place, all the way from Oban, Scotland was Andrew Abraham finishing with a time of 1:23:11, followed by Elliot Kawaoka from Tempe, AZ with a time of 1:25:53 for third place.
In the Half Marathon Women's Division, the course record was nearly bested by Flagstaff runner Emily Torrence who finished with a 1:21:26 (.04 seconds away from the record by Autumn Ray set in 2017). In second was Molly Friel from Fresno, CA who went a 1:29:34, followed by Jenny Easterberg from Seattle, WA who went a 1:31:52.
Just under 800 registrants participated in the 10K.
In the 10K Men's Division, Alvin Begay from Ganado, AZ won with a time of 35:44. Begay won the 10K back in 2014 as well! In second place was Flagstaff, AZ runner Mark Loeffler who went a 39:28; followed by Joshua Ward from Williams, AZ who went a 39:50.
In the 10K Women's Division the top three crossed the finish line within one minute of each other. Sedona local Povi Plank won with a time of 45:23. Plank won the 5K in 2017! In second place from Goodyear, AZ with a time of 45:52 was Elyssa Bell, followed by local athlete Sherry Christoff who went a 46:44.
Some 650 athletes competed in the 5K.
In the 5K Men's Division, Arizona runners stole the show. In first place, Miles Dunbar from Tucson, AZ went a 17:23, the second-best course time ever. In second place was Alan Hagerman at 19:02. Right behind Hagerman with a 19:53 was Wren Cooperrider, both from Flagstaff.
In the 5K Women's Division, Georgia Porter from Flagstaff, went an 18:43; which is the third best course time ever. Katrina Vollmer from Flagstaff, went a 23:55, followed by Haley Johnson from Bellemont, running a 24:15
Congratulations to the nearly 3,000 runners and walkers who completed the Sedona Marathon Events: Full Marathon, Half Marathon, 10K, and 5K. Registrants came from all over the world including 43 registrants from Canada and 28 from Japan. The oldest participant was an 85-year-old Sedona resident.
Exciting new features to the Sedona Marathon Event included the expansion and relocation of the Expo and Packet Pickup to the Posse Grounds Ball Park and a Beer Garden on race day hosted by The Rotary Club of Sedona Red Rocks.
The 13th annual Sedona Marathon Event, presented by Northern Arizona Healthcare, was directed and produced by BlueWolf Events LLC., and is owned by the Sedona Chamber of Commerce & Tourism Bureau.
The 14th annual Sedona Marathon Event will be held on February 2, 2019. Online registration is open now at www.SedonaMarathon.com, so take advantage of early-bird pricing.
-- Sedona Chamber of Commerce