Originally Published: February 8, 2018 2:47 p.m.
SEDONA — Camp Verde High boys basketball's bid to extend their season ended on Wednesday night as they lost to Sedona Red Rock again.
The No. 27 Cowboys (10-18) lost 70-49 to No. 7 Sedona Red Rock in the semifinals of the 2A Central Region tournament. With the win the Scorpions earn the region's second bid to the state tournament at a date with No. 2 Paradise Honors in the championship game.
"Sedona's good," said CV head coach Daniel Wall. "They have a group of kids that just compete hard. Their pressure just got to us. Again, I feel like we're saying the same thing every time. We worked really hard, tried to adjust to a couple of things and they were tough, they really hurt us with their pressure again (Wednesday) night."
Camp Verde jumped out to a 5-0 lead but Sedona Red Rock took the lead 6-5 and after it 8-8, took the lead for good.
The Scorpions lead 11-8 after one quarter, 27-14 at the half and 56-27 after three. The Cowboys didn't give up though and threatened to
Photo Gallery
Camp Verde At Sedona Red Rock Region Semifinals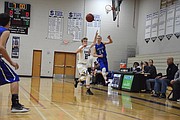 Sedona Red Rock hosted Camp Verde boys basketball in the 2A Central Region tournament semifinals on Wednesday night. The Scorpions won 70-49 (VVN/James Kelley)
make it interesting in the fourth.
"Loved how we finished, loved how we finished," Wall said. "I mean it's been a kinda up and down year, had some really neat experiences and peaks and some really tough ones. I feel like we've definitely grown a lot We've got a lot more growing to do with our young group, that was very evident (Wednesday) night."
The Cowboys lose three seniors, guard/forward Payton Sarkesian, guard Chase Decker and forward Ryan Loza.
"Payton just competes hard in practice everyday and the times he gets on the floor he knows what to do and takes care of his assignments and he's just a neat kid, really fun to be around, great personality and great teammate," Wall said.
He said Decker went from rarely playing as a freshman on the JV to starting as a senior.
"Chase has probably spent the most time on basketball of any of those guys," Wall said. "He just works and works and works and works."
Wall said he was very proud to know Loza.
"He's one of the neatest people I know, honestly," Wall said. "From a character side, who you see is who you get; great integrity, never ever takes a possession or a play off. He'll make mistakes and he's just get right back in the action, sprint back and he'll make a huge play for us."
CV girls march on
The Camp Verde High girls basketball team earned another shot at Sedona Red Rock with a 50-33 home win on Wednesday over Paradise Honors in the semifinals of the 2A Central Region tournament.
The No. 6 Cowboys (23-6) play the No. 1 Scorpions on Friday night at 7 p.m. in the championship game. Camp Verde has won three games in a row, eight of their last nine and their only conference losses were to Sedona Red Rock.