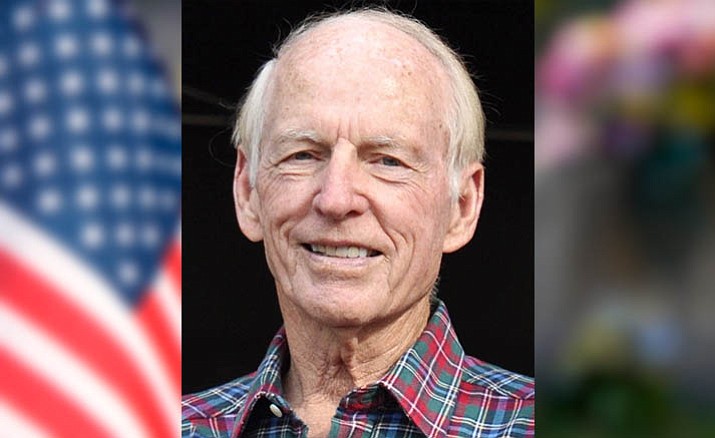 Originally Published: February 8, 2018 12:35 p.m.
Robert Lee Stotts (83) died February 1, 2018, from complications due to heart failure and stroke. Robert was preceded in death by wife, Ruth Nancy "Tongedahl" Stotts (1966), daughter, Reneé Lynn Stotts (1975), brother, John Louis Stotts (2014) and sister, Ruth (Stotts) Ferguson-Rijke (2017). Robert is survived by his wife Donna Faye Stotts, daughter, Rhonda Kaye Moore (Rex Moore), son, Matthew Lee Stotts (Carol Sacks) and grandchildren, Gus, Grant, Amanda, Clyde, and Claire.
Robert was a patriot and proud American — a supporter of our troops and an honored guest at local Veterans Day and Memorial Day events. He was a dedicated Christian and a steadfast supporter of the Evangelical Christian Church at every stage of his life. From his childhood church in Cottonwood, Arizona, to Monte Vista Christian High School in California to the many strong and committed Evangelical Christian communities he contributed to throughout Southern California.
Robert found fellowship and life-long friends in the church, many whom he knew since grade school. Robert's good works and generosity touched the lives of family, friends, neighbors and strangers alike. Those who knew Robert benefited from his buoyant outlook on life and his hard-earned life experience.
The fourth of nine children, Robert was born April 14, 1934, at home on a dairy farm in Bridgeport, Arizona in the Verde Valley. He attended Cottonwood High School until his senior year, which was spent at Monte Vista Christian School in Watsonville, California in 1952. After high school, Robert enlisted in the U.S. Army serving at Ft. Lawton and Ft. Lewis in Washington state.
Having earned the G.I. Bill, Robert attended Arizona State University, where he earned a bachelor's degree business administration with an emphasis in accounting. He later attended the University of California, Los Angeles to prepare to become a Certified Public Accountant (CPA).
Robert was a builder and business owner in Orange County, California for more than fifty years. He was a certified public accountant (CPA) getting his start at Haskins and Sells (now Deloitte) and for over a decade ran finance and operations for a major Southern California real estate company. Robert was a founder of Mission Hills Mortgage Company in 1969 and in 1979 founded his own company, Sun Pacific, Inc.
Over the years, Robert built and sold many businesses in the real estate field and completed several residential and commercial construction projects. By the mid-1980s, he found his life's work in the management and expansion of skilled nursing facility, Hacienda Rehabilitation and Health Care Center in Hanford, Calif. For more than thirty years, his wife Donna worked alongside Robert in the executive offices of Hacienda, overseeing financial operations and human resources. In the late 90s, Robert's son-in-law, Rex Moore joined the family business where he is President today. Hacienda continues Robert's legacy of creating a community of care to nourish and heal.
Robert had his first airplane ride at 14 years old and was fascinated with flying from then on. Robert earned his pilot's license when he was 30 and regularly flew his Bonanza S35 from the Fullerton Municipal Airport (KFUL) reaching most of the southwestern, intermountain west and the midwestern United States. In the summer of 2017, Robert completed a journey of many thousand miles from Orange County to Oshkosh, Wisconsin, with his wife Donna, to attend AirVenture, the world's largest fly-in aviation event. A memorial service will be held at Fairhaven Memorial Park in Santa Ana, California, Friday, February 9th at 9:30 AM with a reception to follow at Calvary Church of Santa Ana. In lieu of flowers, please send donations to the Renee´ L. Stotts Memorial Fund, Monte Vista Christian School, 2 School Way, Watsonville, California 95076.
Information provided by survivors.
More like this story