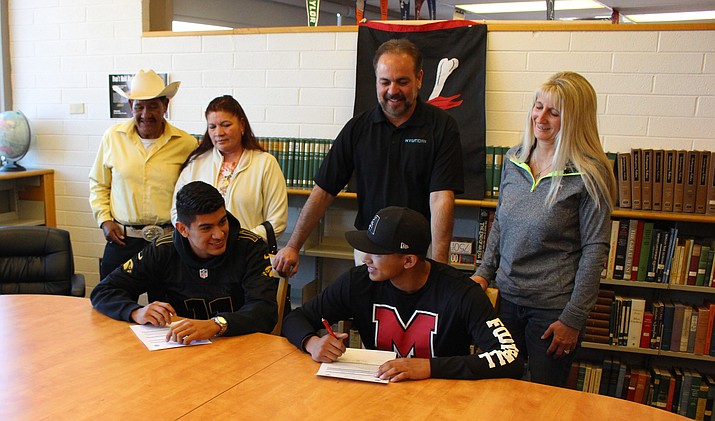 Originally Published: February 8, 2018 3:34 p.m.
On Wednesday Mingus Union senior football players Martin Soria and Marcos Valenzuela signed with Phoenix College and were still excited despite disappointing news earlier in the week.
On Monday the Maricopa County Community College District announced it would be dropping football after the 2018 season but Soria and Valenzuela were undeterred.
"It's an opportunity," Valenzuela said. "I'm not ready to give up football yet. Four years wasn't enough. If I get however many years left after that one year of college ball then that's it, it's another opportunity to go farther."
Along with Phoenix, Mesa, Scottsdale and Glendale are slated to lose their football teams. MCCCD said football makes up 20 percent of the district's total athletic budget and more than 50 percent of insurance costs.
"I thought it was terrible, because Arizona football players are not always ready for D-I, D-II Junior colleges could help them prepare for that," Soria said. "So that's a setback for Arizona junior colleges but I'm just glad I'm getting the opportunity to do it. I'm all in."
The loss of the Maricopa schools would leave Arizona with only three junior college football teams, Pima (in Tucson), Arizona Western (in Yuma) and Eastern (in Thatcher).
Mingus Union head football coach Bob Young said losing the Maricopa County schools would be a "huge blow to Arizona kids," but he has
hope.
"If it happens it hurts a lot," Young said. "I know that the coaches are going to fight for it. I'm hoping it's not a done deal, just talking to people I know that there's going to be a fight, so it's not a done deal. But if it goes away then guys like this would have to go out of state and that would stink for them."
Although the program could be gone after 2018, MCCCD said they would honor scholarships.
Valenzuela said he hadn't heard from the PC coaches but told them he was still excited.
"Our scholarship still holds up til next spring, so it's on us to try to do something like maybe transfer to a different school," Soria said.
Young said one of the appealing aspects of Phoenix College is head coach Robin Pflugrad and the chance to catch on with a four-year school.
"I know most of the coaches," Young said. "The head coach used to coach at ASU, he coached at Oregon, he's been a big time coach so he has a lot of really good connections. That's what you look for in a junior college, you want a coach with connections that can help you move on and that's the thing that I like about Phoenix College, they've got coaches that have really good connections, so if these guys progress, they'll have a chance to play a four-year school."
Valenzuela said he really liked the coaching staff, which reminded him of the Mingus coaches.
They both will play defensive back for Phoenix. They played that on defense for Mingus Union with Valenzuela lining up as a receiver on offense and Soria as a running back.
Soria was also a quarterback at Williams. He transferred to Mingus for his senior year.
"Martin made an imprint, he came in last year at this time and he worked hard and took over a leadership role and obviously second half of the season he was a playmaker for us, difference maker," Young said.
Valenzuela said they're like brothers and that will help out with the transition to college ball.
"Marcos has been in this program for four years but this was the year that he really grew up athletically and took a position," Young said. "Everybody has a lot of respect for his work ethic and just his great attitude."
According to Young they're the first Marauders to move onto college football in five or six years.
"I was talking to coach Young and he said Mingus hasn't had a lot of college players for football and so it's cool that me and Martin are going down there together," Valenzuela said. "Hopefully it inspires our next class to play college ball because they definitely have the talent to. That would be cool."