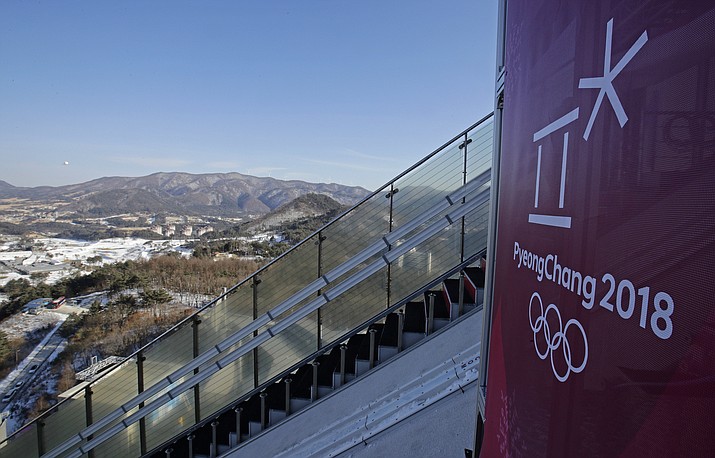 Originally Published: February 10, 2018 1:03 p.m.
Is that time again, to watch figure skating and skiing and try to figure out curling: the Winter Olympics are here.
This year's Winter Olympics will be broadcast on NBC, the NBC Sports Network, the USA Network and CNBC. This year every event will be streamed live on NBCOlympics.com and the NBC Sports app so you don't have to go to extremes to avoid spoilers.
Pyeongchang is 16 hours ahead of Arizona time, so night owls can watch the Olympics in the middle of the night in the United States.
If you don't have an online ID from your satellite or cable provider or you're a cord cutter, then you'll need to sign up for a streaming service like YouTube TV, Sling or Hulu to watch beyond the 30 minute free preview.
NBC will stream 1,800 hours of the Olympics, up from 1,000 in 2014. The app and website will offer alternative camera views, behind-the-scenes content, fact cards featuring Olympic trivia, live leaderboards and a Team USA tracker.
They will also stream practices, including figure skating.
There are digital only programs like Gold Zone, which shows a condensed review of the day and it is streamed daily from 10 p.m. to midnight.
Digital only Olympic Ice will cover figure skating. Off the Post is a live hockey show that is digital only and will be broadcast after every day of hockey action.
On TV the coverage will again be broken up into daytime, prime time and late night sections.
Here are the channels each sport will be on:
Alpine skiing: NBC and NBCSN
Bobsled: NBC and NBCSN
Biathlon: NBC and NBCSN
Cross country: on NBC and NBCSN
Curling: NBCSN, CNBC and USA
Freestyle skiing: NBC and NBCSN
Figure skating: NBC and NBCSN
Hockey: USA NBCSN
Luge: NBC and NBCSN
Nordic combined: NBC and NBCSN
Snowboarding: NBC and NBCSN
Ski jumping: NBC and NBCSN
Skelton: NBC and NBCSN
Speed skating: NBC and NBCSN
Short track: NBC and NBCSN
NBC will also have 50 hours of live virtual reality coverage for Windows Mixed Reality headsets, Samsung Gear VR, Google Cardboard and Google Daydream, with compatible iOS or Android devices via the NBC Sports VR app.
Finally NBC and Snap Inc. will bring the first-ever live-event coverage to Snapchat. NBC Olympics will live stream a top moment each day on its Discover page to Snapchatters.