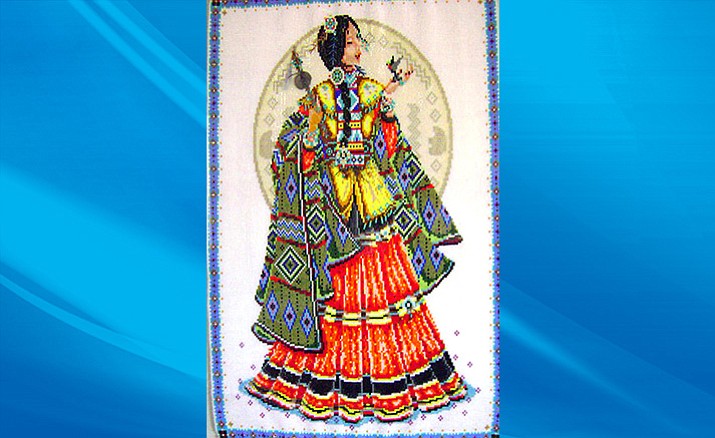 ---
---
Joan Campbell has perfected the use of seed beads to create elaborately designed paintings.  
Most viewers will realize the talent and extreme patience exhibited in the creation of a work with seed beads. She began by taking classes in 2003 to learn the process of beading on a loom, and awakened an interest to create large projects. It is not unusual for a work to take a year or more to finish. Her passion also includes working in fiber arts such as knitting, crocheting and sewing. Working in one area can easily inspire a project for one of the other art forms. Having more than one area of expertise keeps her art fresh and interesting, not only for herself, but for her customers as well. Campbell's advice to other artists is "Do what makes you feel good…if it doesn't flow, let it go and move on."
The EL Valle Artists Association-sponsored Seed Beading workshop will take place on Feb. 24 at the Pine Shadows Club House, 2050 W. State Route 89A, in Cottonwood. Event times are 9 a.m. – 3 p.m. Please feel free to contact Workshop Chairperson, Irene Bauman at 928-646-0195 or by email at ibgrace6@msn.com. Bauman will answer questions or give details for joining the workshop.
The EL Valle Artists Association serves members from across the Verde Valley, and welcomes new members and visitors. If you are an artist looking for your tribe, please feel free to visit and get to know us. Meetings take place the second Thursday of each month, September through May. Learn more by visiting website, elvalleartists.org. Here you will find information about EVAA's mission, membership info, meetings, demonstrations, along with upcoming art events.
For more information, call 928-634-0076.