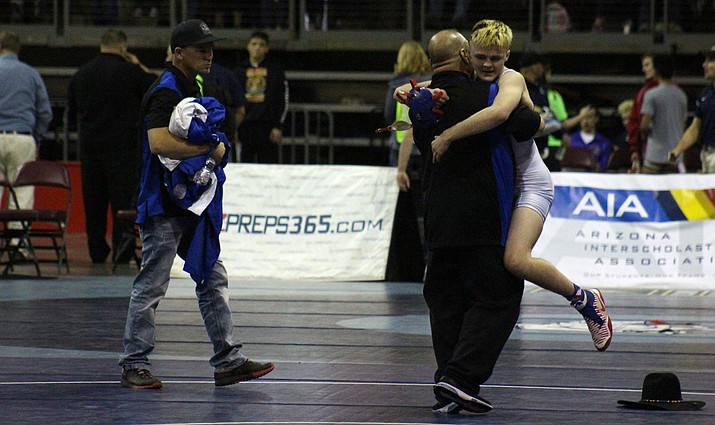 Originally Published: February 15, 2018 1:54 p.m.
It was all about three at the state tournament for Camp Verde High wrestling last week.
The Cowboys finished third at the Division IV state tournament at the Prescott Valley Event Center for the second year in a row and three Cowboys won state championships.
Senior Skyler Pike (40-3) won Camp Verde's first state title, in the 113 pound weight class. He repeated as champion.
Pike won his first three matches by pin and then won the championship match in a major decision, 10-2.
Photo Gallery
State Wrestling Tournament Medal Rounds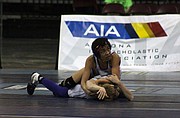 Camp Verde finished third and Mingus Union 20th at the Division IV and Division III state wrestling tournaments respectively last week at the Prescott Valley Event Center (VVN/James Kelley)
Then at 126 pounds, sophomore Korben Uhler (52-0) completed the perfect season with a second consecutive state championship. He won with a pin in the first round, then a major decision and then another fall in the semifinals.
Then junior Anthony Tinghitella (34-2) won the 132 pound crown. In the championship match, the transfer from Oro Valley Ironwood Ridge was down 5-3 in the waning seconds but rallied to win 8-5 and shock top seeded Kaiden Smith of St. Johns.
Camp Verde's other defending state champion, junior Tristian Stanfield in 220, did not wrestle at state.
St. Johns won the team title with 171.5 points, Morenci took second with 146.5 and Camp Verde had 138.5. The champion of CV's section, Arizona Lutheran, was fourth with 125.5 points.
Last year Morenci won the championship and St. Johns was second. Camp Verde won team state championships in 2004, 2006, 2007, 2008, 2013, 2014 and 2015.
Sophomore Keene Todacheene (49-8) opened the medal rounds with a fourth place finish at 106. At 120, sophomore Benjamin Perez (39-11) went 1-2.
At 138, Daniel White (43-12) took fifth. Freshman Jared Gorda (17-17) went 0-2 in the 145-pound tournament.
Sophomore Dillan Tressler (28-22) was 0-2 in the 152 class. Freshman Conrad Brady (47-6) wrapped up the night with a second place finish at the 170-pound level.