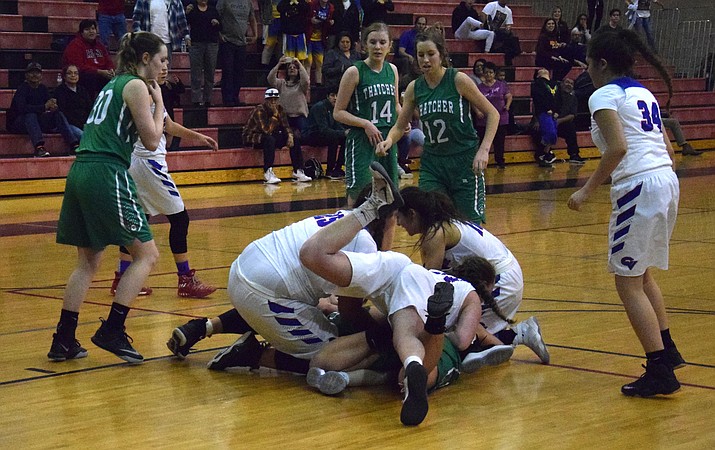 Originally Published: February 17, 2018 1:12 p.m.
PRESCOTT VALLEY – Camp Verde High girls basketball's time ran out on Friday night.
No. 11 Thatcher upset No. 6 Camp Verde 48-47 in overtime in the first round of the 2A state tournament at Bradshaw Mountain.
The Eagles moved on to face No. 3 Valley (Sanders).
"I knew it was going to be a dog fight after watching their film, and it was, and unfortunately they made fewer mistakes than we did – about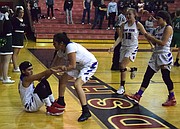 one point fewer," said CV head coach Mark Showers.
In other first round action, No. 1 Sedona Red Rock beat No. 16 Many Farms 60-33. Friday's loss was Camp Verde's first defeat at the hands of someone besides Sedona Red Rock in 2018.
"It was hard," said CV sophomore post Jacy Finley. "We've come a lot further this year than I thought we would've, like we've all been working hard for this and it hurt that we lost but we'll come back next year and play harder and everything."
Finley led all scorers with 20 points, including eight in the fourth quarter. Sophomore guard Lauren Ontiveros had nine points and freshman guard Maya Hedges had six points.
"It was a really tough game but we pulled through," said CV sophomore guard Tanna Decker. "We could have won that easily, I don't want to blame the refs or anything, we kept our heads up the whole game. I think we could have taken it but we'll be back next year and we're gonna dominate next year."
Although they trailed for most of the game, Camp Verde looked set to win the game when Finley scored four points in a row late and the Cowboys went up 42-39. However, Thatcher junior post/forward Lacie Whitmer hit a 3-pointer to tie the game at 42 and send it to overtime.
"See that's one of those sophomore mistakes," Showers said. "If you're up three, you don't let somebody shoot a 3, you get out on them and make them drive to the basket and we didn't. So a lot of the mistakes we made (Friday) night were young kid mistakes and so we just can't make those kind of mistakes."
In overtime, the Eagles jumped ahead 46-42 but Camp Verde stormed back. The Cowboys would tie the game 47-47 when sophomore point guard Amanda Lozanilla stole the ball, laid the ball up and was fouled in the process of shooting.
However, she went down hard, missed the free throw and committed a foul that led to the game winning free throw.
Although the Eagles never led by more than six, they constantly threatened to pull away but Camp Verde continued to rally.
In the third quarter Thatcher went up 28-22 after a Camp Verde technical foul.
"We just gotta go back and keep our heads up but we kinda just let it go right there because we let ourselves down right there, but we just gotta learn to keep our heads up and we're going to do better next year," Decker said.
However, soon after the technical the Cowboys had tied the game at 32.
"Right here, heart, it shows what kind of heart they have," Showers said, pointing to his chest when asked about the Cowboys' constant rallies when they were down. "They did a great job."
Camp Verde finishes the season with a 23-8 record.
"Well shoot, anytime you win over 20 games, it's a successful season, these kids showed that they can compete at a high level, especially with youth, so I look forward to more competition and a better competitive team next year," Showers said.
Finley said they had a talk in the locker room after the game and they are all very motivated to go deeper in the tournament next year.
The sophomore heavy Cowboys don't lose any seniors and only even have one junior, Hope Ontiveros.
"We're going to work so much harder this offseason," Decker said. "We're going to dominate next year, we're getting ready, this is our motivation right here just for that loss, we're going to do better next year."
More like this story