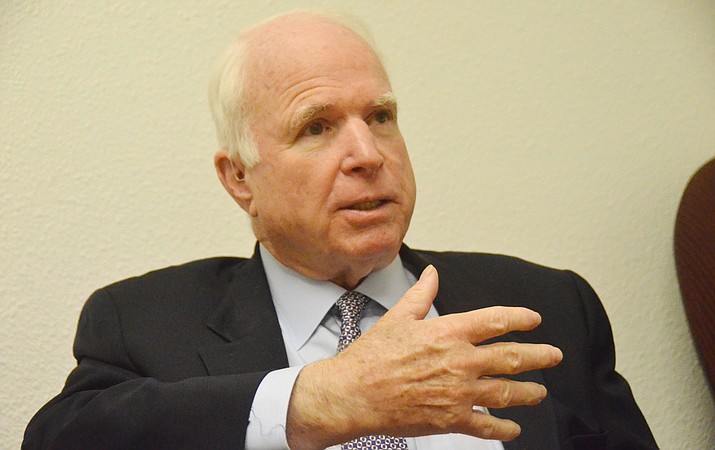 Originally Published: February 17, 2018 1:45 p.m.
PHOENIX -- A Libertarian who concedes he was never a supporter in the past is launching a drive to recall John McCain.
Vann Gutier said his current gripe with the state's senior senator is that he has been absent from Washington now for more than a month while undergoing treatment for a particularly aggressive form of brain cancer . He said anyone in the private sector who was away from the job for that long would have been fired.
Gutier needs to gather more than 600,000 signatures in 120 days.
But even if he could reach that goal -- that's more than 5,200 signatures a day, not counting a cushion to account for errors, by someone with no financial backing -- it may not matter.
"We believe the recall effort is unconstitutional,'' said state Elections Director Eric Spencer, citing a 2012 report done by the Congressional Research Service for members of Congress. But Spencer said his office won't stop Gutier from pursuing his petition drive based on that conclusion.
"That unconstitutionality would have to be litigated on the back end,'' Spencer said, after the petitions are filed. "We have no statutory authority to refuse to issue the serial number (to begin collecting signatures) on the front end.''
Gutier said if the state tries to block an election "that's when the lawyers would get involved.''
There was no immediate response from McCain.
Gutier said he had made calls recently to the senator's Washington office.
"I was under the impression that Sen. McCain was actually headed back to D.C. to go back to work,'' he said. But when pushed for details, Gutier said, "they gave me a six-minute runaround.''
Gutier actually filed the paperwork to start the petition drive this past Tuesday. But he didn't get the legally required petition number -- it has to go on every sheet -- for two days while the Secretary of State's Office was trying to figure out whether he was entitled to pursue the effort.
Now that he's been given the clearance, Gutier said he intends to refile the paperwork this coming Tuesday -- Monday is a state holiday -- giving him a full 120 days. Gutier said he's going to need each and every one.
The hurdle he has to overcome is based on statutory provisions setting the minimum number of signatures for a recall at 25 percent of the votes cast at the last general election. That tally, according to the Secretary of State's Office, is 632,683.
Even if Gutier succeeds, and even if a court rules that McCain has to face recall, that still does not guarantee the senator would be removed from office. If McCain does not resign, his name automatically goes on the recall ballot, along with anyone else who wants to run.
Gutier said he has no links to Kelli Ward, a Republican running to replace Jeff Flake, the state's other senator.
Ward made news last year saying McCain should step down because he cannot perform his job, even suggesting that she should be appointed to replace him. More recently, Ward said during an interview on MSNBC that "anybody who's not able to do their job should step aside and allow the process to continue in Washington, D.C.,'' though she did not specifically mention McCain.
On Twitter: @azcapmedia
More like this story