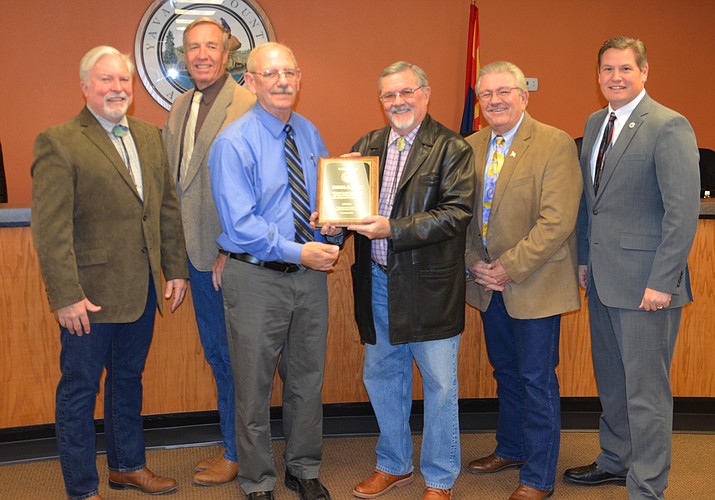 Originally Published: February 17, 2018 2:56 p.m.
Feb. 15, Byron Jaspers officially concluded his 23 year career with Yavapai County as the Public Works Director.
When asked what he is going to do now Byron said, "Take a deep breath and figure out what I want to do next."
Yavapai County Board of Supervisor, Chairman Rowle Simmons said, "Byron has always shown great talent as an engineer and leader within this organization. He has dedicated himself to his work, and will be greatly missed."
Jaspers moved to Arizona from Iowa when he was eight years old, went to Prescott High School and graduated with a degree in Engineering from NAU in 1975. Jaspers worked for Yavapai County, the first time, from 1976 to 1979 in the Engineering department before moving to Phoenix and then Saudi Arabia.
Jaspers said "I worked in Saudi Arabia from 1980-1983 before there was TV and alcohol was still illegal. We lived in mobile trailers, in a trailer park and watched movies from a lending library. We were discouraged from touring the country side, but we did get to see some of the country."
Jaspers went to Saudi Arabia to work on a three billion dollar Ethanol storage system.
Later in his career, while working for the City of Prescott, Jaspers completed the replacement of cement roads, from the 30s, that made up Gurley Street and replaced them with the asphalt that is there today. His time working at Yavapai County has seen improvements to Pioneer Parkway, Willow Creek Road, Fain Road and Mingus Avenue in Cottonwood, including the design and installation of a 950-foot bridge.
As a husband, father and grandfather, Jaspers is looking forward to working on his "Honey Do" list and getting to spend some time with his grandkids. Jaspers said, "I don't see myself sitting around for long but I do want to take some time off before I decide what to do next."
Phil Bourdon, County Administrator said, "As a fellow civil engineer, Byron and I share a common desire to see quality public infrastructure projects to completion. It has been a pleasure working with him for so many years, and he will be missed."
Jaspers was presented with a plaque from the Board of Supervisors, in Recognition and Appreciation for 23 Years of Dedicated Service to the Citizens of Yavapai County.
--Information provided by the Yavapai County Board of Supervisors