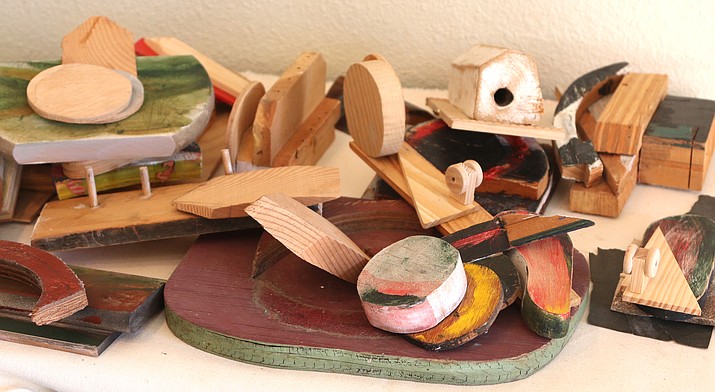 ---
---
Bonnie Hartenstein will be discussing why artists do retrospectives and "bodies of work", what inspires the artist and what the difference is between creating early work and later work. She states, "I want to share my artistic journey of 40 years because it shows how what you began at one stage of life is the seed for what is to come. I want to encourage others to find the creative inspiration that is unexpected."
As a teacher at the School of the Art Institute of Chicago for 23 years, Hartenstein taught Color Theory, Painting, Figure and Landscape Drawing and Art History. In addition, Hartenstein's work has been shown in galleries in Chicago, museums and traveling exhibitions.
"Playing with Possibilities" features bodies of work that include large oil paintings referring to landscape, 6 foot mixed media painted constructions, an installation of intimate vignettes from Hartenstein's Tuscan Journey series, pastel drawings from "Tantric Journeys" and rearrangeable stacked abstract paintings on wall easels that will encourage viewers to interact and play with them.
For more information about the SVAC meeting on Feb. 21, "Playing With Possibilities" contact Julee Norton-Cohen at: witchphd2b@gmail.com or 928-239-9967.
SVAC is an inclusive organization that welcomes artists at all levels and provides a sense of belonging. For more information about SVAC visit the website at: http://sedonaartistscoalition.org or contact president@sedonaartistscoalition.org.