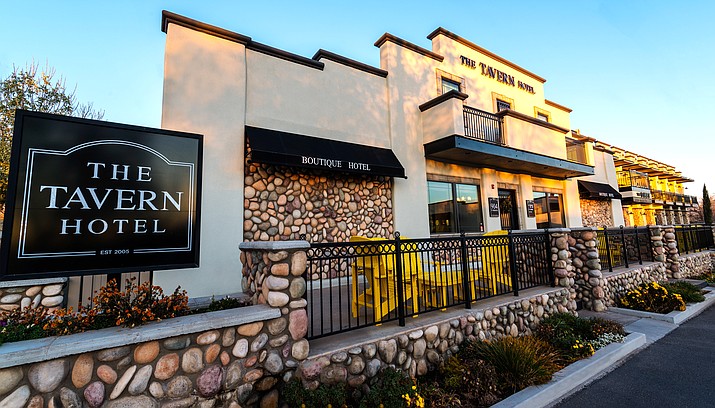 Originally Published: February 20, 2018 12:52 p.m.
COTTONWOOD -- Would you like a scenic train ride with your hotel room?
How about a paddle-to-wine tour? Horseback ride? A date night in Cottonwood?
Eric Jurisin has opened his expanded "upscale boutique" Tavern Hotel in Old Town Cottonwood with 45 "rustic retro" rooms.
And he is partnering with local businesses to offer room packages that include some the best of the Verde Valley's adventures.
"We're trying to give them a weekend getaway," Jurisin said, referring to his guests.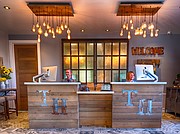 Jurisin agrees he is helping other businesses in the area: "That's the whole idea. It takes everybody to make it work."
And Jurisin has been making it work in Old Town Cottonwood and Jerome where he and his wife Michelle have numerous businesses.
At Jurisin' restaurant, the Crema Craft Kitchen + Bar in Old Town, Tavern Hotel guests will get a free continental breakfast with their room.
The couple also own the popular Pizzeria Bocce, the upscale Nic's Italian Steak & Crab House and the Tavern Grille in Old Town and the Haunted Hamburger and Grapes Restaurant and Bar in Jerome, all under the Haunted Group.
Jurisin said the hotel has gone from the original 12 rooms to 45 rooms in the two-story expansion, which includes an elevator. And now they have a new 24-hour lobby, manned by a concierge. A new 45-car parking lot has been constructed behind the hotel below the former Masonic Temple building.
A tasting room and small vineyard has been proposed for the Masonic Temple property and is under planning and zoning review by another applicant.
Yellow lounge chairs await guests on each of the renovated hotel's balconies giving the building its distinct look from Main Street.
"With the new rooms, it's about the outdoor space," Jurisin said. "People come up from the valley and they want to have coffee in the morning outside. So you either have a balcony or a patio."
"I really wanted it to try to fit in and not change the look of Old Town," Jurisin said. He and Michelle travel a lot and they were looking at old hotels from New York to Miami to Italy.
"We knew what we wanted. We were looking for luxury accommodations."
The hotel was originally built in 1925 as a grocery store, according to its website.
Guests can reserve one of the hotel rooms, one of two small cottages, a penthouse above the Tavern Grille individually or they can rent the rooms in a package with one of the "adventures" at varying prices at the Tavern Hotel.
"Stroll Main Street to browse in some really cool homegrown shops or visit one or more of the 4 Wine Tasting Rooms. You can even take an early morning walk along the Verde River on the Jail Trail that starts right across the street from Pizzeria Bocce at the end of Main Street," explains hotel website.
"People want adventure," he said. "We have packages with kayaking, we're doing a paddle to wine package."
"Really what we're going to be is a reservation desk for adventure and things to do in the area," he said.
"We have formal partnerships," Jurisin said to the other businesses in his packages. He expects to expand the businesses he partners with.
"Everything we're doing, we're marketing around the wine industry or the water," he added.
There will be a ribbon cutting on March 1 for the community to check out the hotel and see the rooms, Jurisin said.
"I think it turned out well," he said. The guests don't just like the hotel, they enjoy the community, Jurisin said.