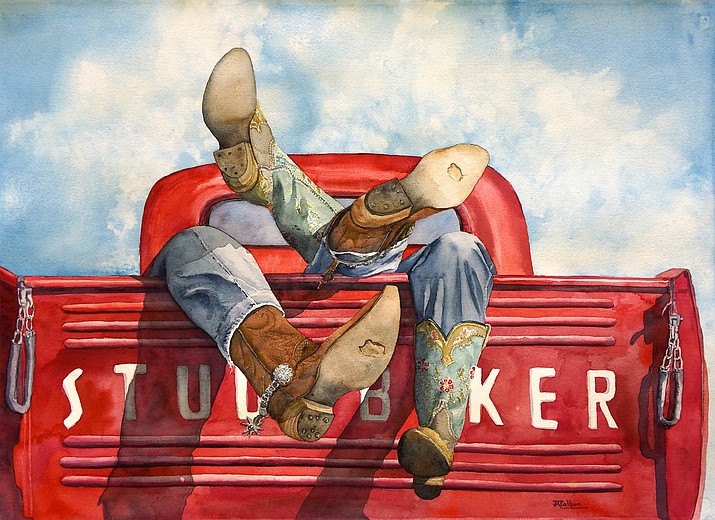 ---
---
Working artists in the Verde Valley will be opening their private studios to the public for the Spring Sedona Open Studios Tour, held the weekend of April 27-29.
The Sedona Visual Artists' Coalition (SVAC) is presenting this exciting self-guided event, which is always free to the public. The Tour runs from 10 a.m. to 5 p.m. on Friday, April 27 and Saturday, April 28, and for the first time this year, the studios will be open from noon to 5 p.m. on Sunday, April 29. 
The Tour's co-chairs, clay artist Mike Upp and painter Julie Ronning Talbot, are counting the days until the Spring Tour kicks off. "Astounding, gratifying and exciting," are words that both artists say describe the phenomenal growth of the 15 year-old Open Studios Tour in the six years that they have been at the helm.
The SVAC Tour has built a reputation as a wonderful weekend for art lovers to visit with professional artists in their working studios, as well as an opportunity to purchase art while enjoying the lush landscape of Sedona and the Verde Valley. It also offers a fabulous venue for local artists to shine by engaging visitors and fostering a community that values the arts.
Past visitors report that one of the distinct pleasures of shopping on the studio tour for their own collection or for gifts is the chance to spend time with the wide variety of artists who offer a personal look at how and where a piece is made. 
This year, there will be over 40 studios and close to 70 artists participating in Sedona, the Village of Oak Creek, Cornville, Cottonwood and Clarkdale. Open Studios visitors agree that the tour is an excellent way to experience the creative process as a hands-on learning event.
From exploring the artists' various tools — such as brushes, cameras, canvas, paint, kilns, glass and fibers — that are used in creating the beauty on display to watching artists give demonstrations, the unique, up-close insight into the production of artwork is one of the tour's most appealing aspects.
For complete information please visit the SVAC website: http://sedonaartistscoalition.org/.