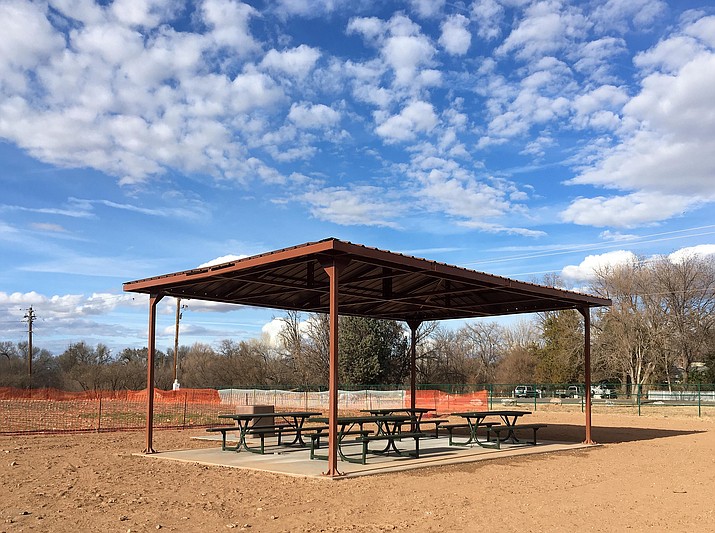 Originally Published: February 20, 2018 1:03 p.m.
CAMP VERDE – Thanks to $25,000 in grants from the Nature Conservancy and the Bonville Environmental Foundation, as well as Capital Improvement Plan funding from the Town of Camp Verde, Rezzonico Family Park has been given a facelift in the form of two ramadas.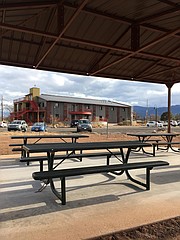 Each of the ramadas has charcoal grills and tables, with each table seating between six to eight people.
One of the ramadas – the smaller one – is a two-table ramada that overlooks the Verde River at the Black Bridge access point.
The larger of the two ramadas – with four tables – is located a short walk from the Camp Verde Community Library and could be also be used as an outdoor classroom, according to Mike Marshall, Camp Verde Parks and Recreation Division Manager.
According to a press release from Camp Verde Parks and Recreation, a main focus of Rezzonico Park is to "leverage its location between the Verde River and the Community Library as an educational and interpretive site."
The Town of Camp Verde received the grant as an opportunity to help implement the Town's Verde River Recreation Master Plan, which including improvements to the Park.
Due to the location of the structures in the flood plain, part of the process to build the ramadas included engineering analysis, according to the press release.
How the ramadas were built
Thanks to the REI grant, the Town purchased the ramadas and picnic tables from Arizona Correctional Industries, and then hired MacDonald Brothers Construction to excavate and pour the concrete slabs and to build the ramadas.
The Town of Camp Verde's Maintenance staff then installed the tables and the charcoal grills, one that came from a prior grant purchase, the other from another "underutilized location," according to the press release.
Series of improvements, past and future
The new ramadas are the most recent in a series of upgrades the Town has focused on at Rezzonico Park, which includes re-graded landscape, expanded parking, and repair to the entrance road.
Also, contractors were used to repair the fence along Montezuma Castle Highway, to add new fencing on Rezzonico Park's eastern boundary, to add new rock at the Center of Arizona Monument, and to create the park's stargazing area.
Known as the Rezzonico Family Star Park, the stargazing area was a collaboration between Astronomers of the Verde Valley, the Camp Verde Community Library, Camp Verde Parks and Recreation, Lowell Observatory and One Star at a Time.
Camp Verde's very own, The Old Guys completed concrete pads for telescopes and a base for a planned Spur Landing Monument.
According to the press release, future plans include a walking path around the Park, as well as additional interpretive signs and pipe rail fencing across the Moser Road side of the Park.
Rezzonico Family Park is open from dawn to dusk. For after-hours use, contact Camp Verde Parks and Recreation at (928) 554-0828.
-- Follow Bill Helm on Twitter @BillHelm42
More like this story