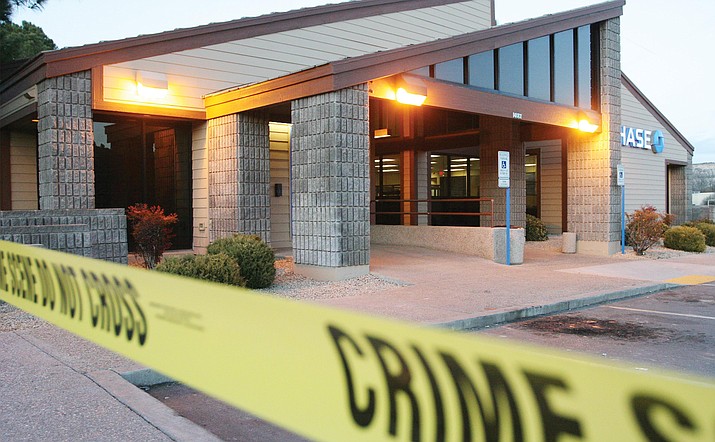 Originally Published: February 22, 2018 12:05 p.m.
CAMP VERDE – Barely moments after taking $2,000 from the Camp Verde Chase Bank, an unknown man was apprehended by Camp Verde Marshal's deputies Thursday morning.
At about 10 a.m. Thursday, the suspect, identified as a white male, approximately 6-feet tall and wearing a green flannel shirt and blue jeans, entered the Chase Bank at 402 W. Finnie Flat Road with a gun – and a note indicating he intended to rob the bank, according to a press release from the Camp Verde Marshal's Office.
According to the press release, the teller "complied with the suspect's demands, [while] another employee placed a 911 call to the Marshal's Office."
The suspect exited the bank through the front door and was walking north across the parking lot where he was spotted by Camp Verde Deputy Dave Freeman.
"It was pretty quick," Commander Brian Armstrong said. "Deputy Freeman was in the area when the call came out."
Deputy Freeman "observed the subject walking from the bank," Commander Armstrong also said.
"He followed until other deputies arrived," Commander Armstrong said. "It wasn't very long, maybe five minutes. It worked perfectly."
At this time, CVMO detectives are at the bank investigating the robbery and have notified the FBI. According to Armstrong, there were no injuries, and bank employees "followed their protocols and remained calm."
According to the press release, the robbery is an active investigation. More information will be released as it becomes available.

-- Follow Bill Helm on Twitter @BillHelm42