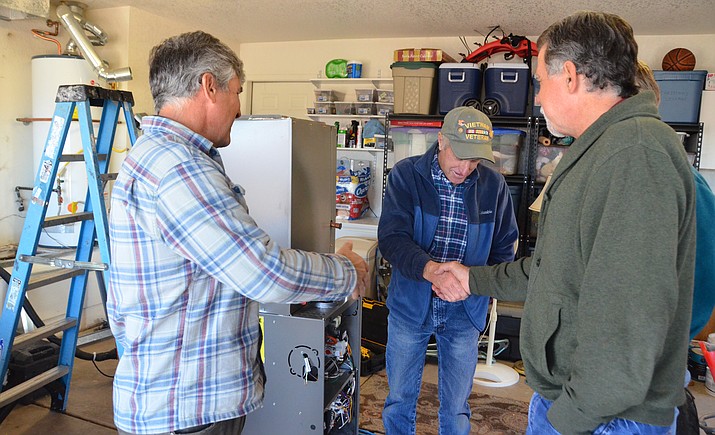 Originally Published: February 22, 2018 1:09 p.m.
CLARKDALE -- Adam and Ted Goettl, owners of Goettl's High Desert Mechanical in the Verde Valley since 1987, and their crew shook hands with Vietnam veteran Bill Irving of Clarkdale and listened as Irving talked about his service.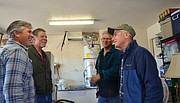 They were standing in Irving's garage where the Goettl's company installed a new heating and air conditioning system for the veteran.
Goettl High Desert Mechanical, a local residential heating and air conditioning company, "announced they have selected twoYavapai County Veterans to receive a free HVAC system in honor of their service to our great country," according to a press release.
Goettl's and the Veterans News Network began soliciting referrals through a variety of media sources seeking deserving Veteran candidates, the release stated. Veterans Bill Irving of Clarkdale and Walt Lynn of Prescott Valley were selected for free heating and air conditioning systems, their statement announced.
Goettl's High Desert Mechanical and the Veterans News Network reached Yavapai County Veterans via the following outreach: Contact with over 20 Veteran Service Organizations (VFW, American Legion, DAV, Elks Lodge), Non-Profits (Habitat for Humanity, Catholic Charities, Coalition for Compassion & Justice, Arizona Shine, etc.), print & television media, and public servant offices (Town of Prescott Valley, Honorable Skoog, and Northern Arizona VA Health Care) and Facebook postings.
"Goettl's High Desert Mechanical, Inc., mission is to do the right thing for our customers the first time and provide an unmatched quality of service. An HVAC industry leader in northern and central Arizona since 1987, Goettl's has been providing trusted, quality air conditioning and heating services to its vast customer base, and their commitment to community service noteworthy," explained the press release.
More like this story