Originally Published: February 24, 2018 2:32 p.m.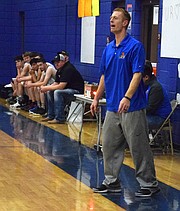 Four Camp Verde High boys basketball players received All-Central Region honors and Dan Wall won region coach of the year.
Sophomore shooting guard Jason Collier was named second team All-Region.
Senior guard Chase Decker, sophomore shooting guard/small forward Abelardo Gonzalez and senior forward Ryan Loza were honorable mention.
"I thought they did a pretty good job picking," Wall said. "I mean obviously Paradise Honors and Sedona were far and away the two most talented teams in our region and that was certainly reflected on that first team ballot. I was pretty happy people put Jason on the second team, that was pretty cool, from a Camp Verde side of things and Abe got a couple votes, so him and Loza and Chase ended up making honorable mention, so that was cool too."
In 2016-17 Collier was on the JV and now he's All-Region.
"It's a testament to how hard the kid's been working," Wall said. "He just eats, breathes, sleeps basketball. He loves it, he gets shots up every day, a lot of shots and he's just been very committed through out the offseason to work on his game and the results are really neat this year."
Paradise Honors' Sohn Sims was region defensive player of the year, Sedona Red Rock's Wyatt Gregson was region offensive player of the year and Jared Perry of Paradise Honors was region player of the year.
Wall said winning the COY award was about the kids.
"It was neat and to me it's about the kids," Wall said. "I feel like our group definitely improved throughout the year and we definitely had some things to work through injuries, etc. and I thought the kids really battled, competed and certainly we got better late in the season, which is always what you want your group to do, you want them to take positive steps forward late in the year and I thought they did a good job of that."