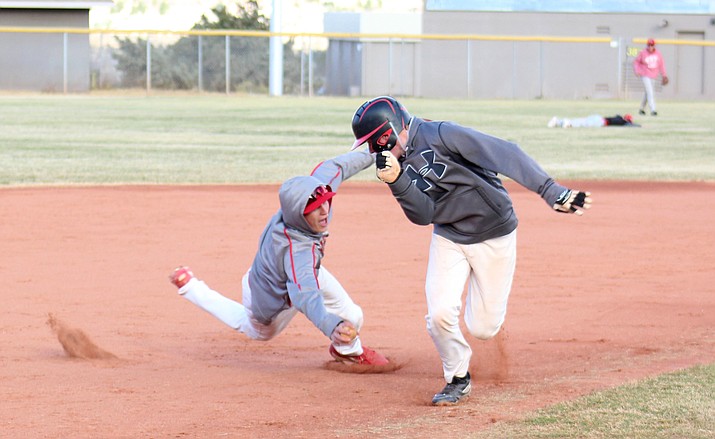 Originally Published: February 24, 2018 2:49 p.m.
Mingus Union baseball's first week of games was a short one, due to a positive result and one out of their hands.
The Marauders (1-0) opened the season on Thursday with a 15-4, five-inning win at Combs.
"It was good to get out there and play somebody different, that was the best thing, we had a good time," said Mingus head coach Tim McKeever. "We made some first game mistakes, we made a couple of base running errors and had some errors in the field, but overall we pitched real well and we really hit the ball hard. A lot of times we were hitting the ball right at people but we were hitting the ball hard so there was way more good than bad."
Then the Marauders' home opener against Phoenix Greenway on Friday was postponed.
Against Combs, Mingus Union jumped out to a 6-0 lead, 3-0 after the top of the first. Senior Andrew Kulis (1-0) earned the win.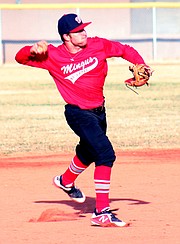 "That takes a lot of pressure off things when you can get out there and score some runs, so it really helped Andrew on the mound just to be able to relax knowing that we had the lead, so he can just relax and just pitch," McKeever said.
Mingus Union jumped ahead 6-0, then Combs scored a couple runs in the second and third innings before the Marauders scored seven runs in the fourth inning and two in the fifth.
"It was good," Kulis said. "We started off slow but then towards the end we really got our bats around and we were getting base hits."
Kulis went 1.2 innings, struck out 1, walked 1 and gave up 0 hits and earned runs. Senior Jose Pacheco pitched 2 innings, struck out four and gave up 0 runs.
"They did a fantastic job of keeping themselves ready in between those long innings and that's why we kinda broke it up a little bit too and used some different pitchers because of some of the longer sit times when we were at bat but it worked out good," McKeever said. "They did a great job with staying ready in between innings so I was very happy."
Kulis downplayed the affect that the Marauders' long offensive innings had on their pitching. Mingus Union put up crooked numbers in four of five innings.
"It doesn't really make a difference, I just go out there and pitch," Kulis said.
Senior Tyler Kelly led the way at the plate, knocking in five runs, hitting a home run and a triple. Kulis had 3 RBIs, scored 2 runs and hit 2 triples.
"We wanted to start off strong and then just keep it that way through out the whole season," Kulis said.
Senior Tyree Kim was 4-for-4 at the plate, scored 3 runs and had an RBI.
The win avenges the Marauders' 8-5 loss to Combs last year at home.
"We progressed as a team over the summer and it goes all the way up," Kim said. "We lost to them last year at the beginning of the year and we just wanted redemption, so we got redemption."
Kulis and Kim said they were really disappointed that the Greenway game was postponed. Instead the Marauders practiced during the game's original time and it was mostly sunny.
"You can see it's pretty clear, we could have played (laughs)," Kim said.
Mingus Union's next game is on Thursday when they host Winslow at 3:45 p.m.
McKeever said they don't know when the Greenway game will be made up.
"We've been working on it all afternoon, so we're hoping to that it fits into our schedule April's terrible for us, we have so many games, so this was the perfect week to play them and it just didn't work out," McKeever said on Friday.
Greenway opened their season with a 7-2 loss at Goodyear Estrella Foothills on Thursday. Now the Marauders will have to play the Phoenix team when it's warmer.
"It would have been great to play them, we were all excited, the boys were really excited, especially coming off of a good win (Thursday)," McKeever said. "We'll just play them whenever it gets scheduled and try to make the most it."
More like this story