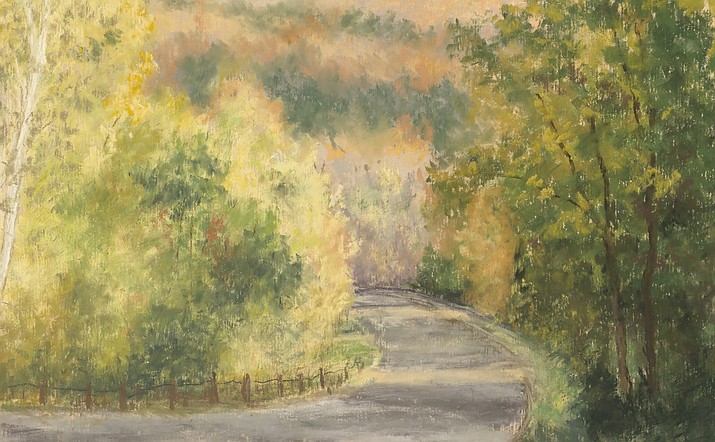 ---
---
The Jerome Art Walk keeps its momentum going on March 3, approaching the spring season with more artistic energy and wonderful talent than ever before. 
Every first Saturday, the creative community of Jerome is pleased to host an evening of art, music and entertainment with open studios and galleries displaying local, regional and national artistic treasures. New members have joined the group and are planning special events throughout the town on March 3 from 5 – 8 p.m. A free shuttle runs during the event. Restaurants will offer delightful meals and charming lodging choices abound for a delightful night's stay for those who might enjoy making a weekend of it.
Award-winning jewelry artist Eric Silva will be showcasing his work at Firefly. Eric Silva is an L.A.-based designer. Eric's work reflects an individual artistic viewpoint that combines both natural and industrial materials in a small, thoughtfully constructed space.
Inside the New State Motor Company, Janie Layers will be featuring her latest sculpted scripture narrative titled: Centurion Kneeling Before Crucified Jesus. It is a 30-inch tall hand-formed/high-fired clay sculpture painted with oil and acrylic. In addition to the human figures found in her Jerome Bible Art Museum, Janie also has plenty of cute donkeys, jackrabbits, lizards and other desert animals for sale.
The Jerome Artists' Cooperative Gallery presents Wanda Wood's featured solo show entitled, "Every Little Thing." Well-known in the gallery with her paintings in oil and pastel, this show broadens her perspective to include her interest in weaving. Wanda's assortment of baskets will include both pine needle baskets and reed-woven baskets. Some will be made from Irish wax linen thread. A reception will be held and refreshments will be served.
Pura Vida Gallery will debut new furniture pieces by master blacksmith Luis Marquez from Austin, Texas. Luis hand-forges wrought iron into amazing tables, mirrors, and wall sconces with organic twig designs. 
Spring is for bling at Threads on Main. We'll be debuting Rebel Designs newest work featuring Swarovski Crystal studded leather cuffs, necklaces and earrings. Be the first to preview these stunning pieces handcrafted in Brooklyn, New York.
Zen Mountain Gallery welcomes two new local artists to the gallery. Jerome sculptor and painter Richard Faye joins the gallery with his sculptural abstractions of the human figure. Richard's sculptures are hand carved wood and colorfully painted resulting in highly creative, fanciful works of art. Zen Mountain Gallery also welcomes jewelry artist Jahn Baker. Jahn is very well known in the Verde Valley and Sedona area after having taught jewelry making at the Verde Campus of Yavapai College for a very long time. Jahn's technique and craftsmanship are exceptional and have earned him his reputation as one of the areas master jewelers.
Gallery 527 presents "Ancient Journey," new encaustic work by Ardis Harsche. Her encaustic paintings are filled with symbols of ancient civilizations, primitive animals and vibrant colors. Join the group of talented local artists at Gallery 527 to celebrate this much anticipated show.
For more information of Jerome Art Walk, contact Donna at 928-301-3004.