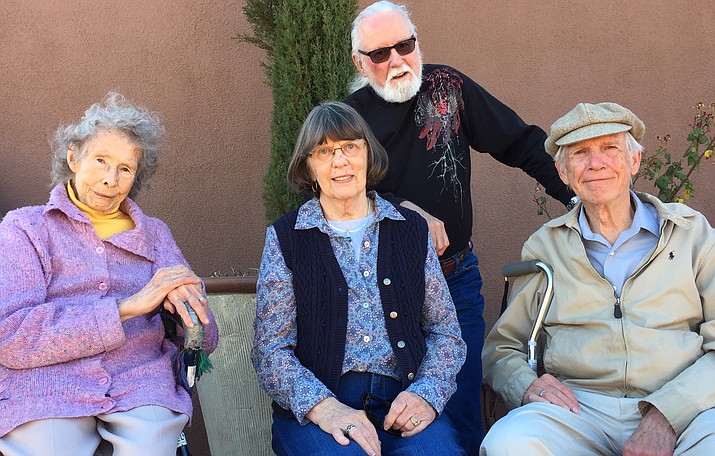 ---
---
In March, Goldenstein Gallery celebrates their first anniversary at their new location at the "Y" located 150 State Route 179, with Decades in the Making.

This special show highlights art of over thirty of their artists who have been creating work quite literally for decades. Their lifelong commitment has honed a profound artistic vision and a dazzling array of stunning distinctive pieces are the result. Among the many renowned artists whose work will be featured are painters Adele Seronde, Rafe Terry, Lynette Jennings, James Cook, sculptors David Phelps, James Muir, Upton Ethelbah, Lucuis
Upshaw and a special Dorit Herlinger Jewelry Trunk Show at the Gallery and at L'Auberge de Sedona. There will also be a showing of the art of famed film auteur Orson Welles. Decades in the Making kicks off with an opening reception from on Friday, March 2, from 5-8 p.m.
For 75 years Adele Seronde has been painting, she studied under Karl Knaths at Phillips Museum in Washington, D.C. and Bennigton College in Vermont, with Hans Hoffman in New York City and Karl Zerbe at Boston Museum of Fine Arts. Her paintings have been exhibited nationally and internationally.
Known for her unique style of painting, mostly gardens and landscapes, this artist, author and poet does not use an easel. Instead, she prefers to lay the canvas flat on the ground, often placing additional canvases around it expanding the painting. To her, the garden is a metaphor for healing, a source to love and nurture the Earth.
Seronde will have a book signing of her latest poetry books at the reception from 5-6:30 p.m.
Dorit Herlinger will be having a special Jewelry Trunk Show at 1st Friday Reception and at the L'Auberge de Sedona from 11 a.m. – 2 p.m. Saturday and Sunday as part of the Goldenstein Gallery Artist in Residence program at the renowned resort on Oak Creek. Please check GoldensteinArt.com for details on the additional artists painting and sculpting creekside at L'Auberge.
Award-winning artist Rafe Terry is known for his beautiful floral portraits as well as his edgy contemporary canyon landscapes. His distinctive style is reflected in his bold images of the west. His deft use of color captures the expansive nature of the scenery with striking detail.
For years Lynette Jennings is renowned for her groundbreaking books and famed interior design television show "Lynette Jennings' Design" on the Discovery Channel which broke the rules and records. Ahead of her time, she produced and performed over 500 shows and 4,500 segments featuring architects, designers and artists in the US, Canada, France and Italy and is seen as the founder of design and home improvement television today.
Her evocative canyon-scapes and earth series paintings, powerfully capture the abstract natural landscape.
Among the other artists whose work is in this powerful show are painters SJ Shaffer, JA Gorman, Allen Powell, Jourdan Dern's wildlife images, mixed media artist Karyl Bennett, Marilyn Bos, Sherab Khandro's pointillist pieces and jewelry, Jaqui Jackson's luminous hand painted silk pieces, Mike Medow's wood carvings and paintings and exotic wood Treasure Boxes by 95 years young craftsman Judd Lotts. The public is invited to meet these artists and other local artists at the opening night reception for Decades in the Making on Friday, March, from 5-8 p.m.
For more information on Artists, Artwork, Satellite Exhibits, Artists in Residence please visit GoldensteinArt.com. Sign up for their monthly E-zine, Instagram and Facebook or call 928-204-1765. Open daily, Goldenstein Gallery's address is 150 State Route 179, at the corner of SR179 and 89A. Voted Best Gallery in Sedona 10 years running and recently named the best place to shop in Sedona by USA Today 10 Best, Goldenstein Gallery is known for its diversity of world-renowned local and regional artists in all media and styles.