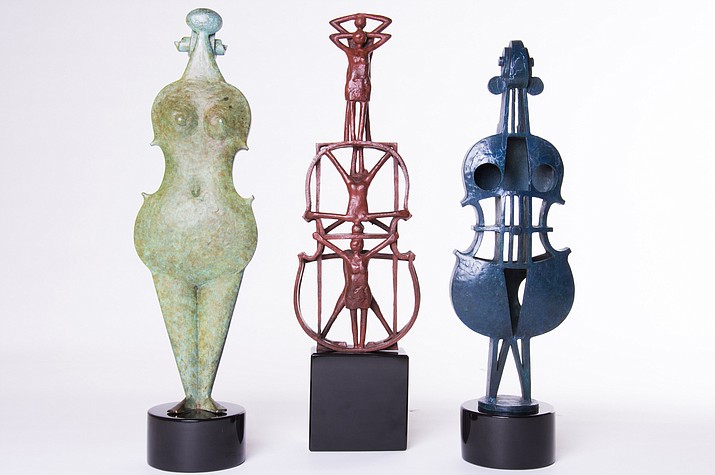 ---
---
Lanning, a Bryant Nagel Gallery, celebrates the career of singular bronze sculptor Howard Hitchcock.

The last of the artist's sculptures will be unveiled in "Howard Hitchcock: Out of a Fiery Furnace" opening with a 1st Friday reception on March 2 from 5 – 8 p.m. in Sedona.
Howard Hitchcock (1927-2016) was a sculptor for more than a generation, devoting decades to perfecting the art of ceramic shell casting. His artistic vision, one informed by humor, satire, and even commentary, often belies the seriousness of his skills and intellect. Every remarkable bronze he creates challenges viewers to work out its cleverness. In the artist's sculptures stylized human forms, and often cars as well, blend into the structure of objects, both imagined and ordinary, and as disparate as train stations and violins. The human forms by Howard Hitchcock form the spokes of wheels, push over-sized envelopes and, in a piece entitled, "On the Cutting Edge," perch atop a blade.

For thirty-two years Hitchcock devoted himself to sharing this knowledge as a university professor of art, teaching a course in bronze casting for close to two decades.
"Ceramic shell casting is the most spectacular art process imaginable," Hitchcock wrote in his book on the subject, "particularly at the crescendo of a night pour when the glowing, golden stream of liquid bronze flows into the red-hot shell, bringing it to neon incandescence in the dark."

He went on to explain the process itself: "Lost-wax casting is truly an ancient and venerable art that has been practiced in diverse cultures and continents over thousands of years. The most modern approach to that ancient process, dating from only the mid-point of the twentieth century, is ceramic shell casting. Instead of being encased in the traditional solid-block mold that weakens in the heat of burnout, the wax model is thinly coated with a ceramic material that is fired by the burnout into a hard, lightweight shell for receiving the molten bronze. In both cases, whatever was wax becomes bronze."
Sculptures by Howard Hitchcock have been exhibited throughout the United States, Mexico and Japan. He is included in "Who's Who in American Art." With the artist's passing in 2016, these are among the very last pieces of Hitchcock's work that will be available.
Mark your calendar to attend the opening for "Howard Hitchcock: Out of a Fiery Furnace" on March 2. This exhibition runs through March 11.
For more information, call 928-282-6865, email email@lanninggallery.com or visit www.lanninggallery.com.
Lanning is located at Hozho, 431 State Route179 in Sedona. It is open daily from 10 a.m. – 6 p.m. Monday through Saturday; and 11 a.m. – 5 p.m. on Sunday.