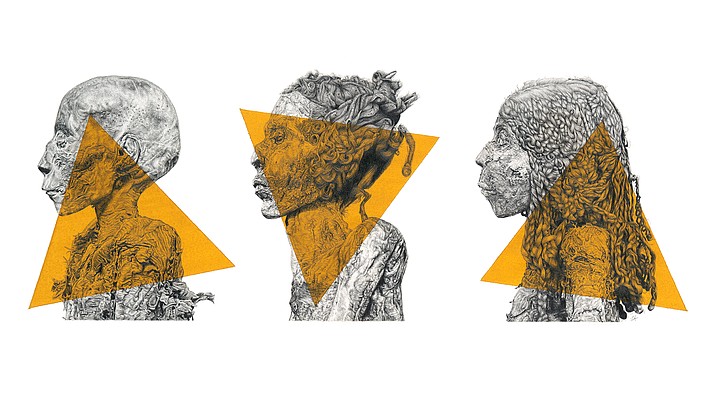 ---
---
Time is as esoteric as it is implacable, and we cannot help but constantly feel its influence. For artists, this can mean themes of lineage, memory, or even looking to the future. This March, Creative Gateways explores the strength and beauty of time in their new exhibit Traveling Through Time. Join them for a warm opening reception on Friday, March 2 from 5-8 p.m. during 1st Friday in the Galleries.
The influence of time can be found in much of the work of resident artist Laura Hines. Some pieces have their origins in moments of her family history, such as her illustration "Daughters" being inspired by an unlikely heirloom. Other pieces, like "Belligerence," are inspired by her love of antique photographs, sometime accompanied by simple but fascinating stories. Laura is also drawn to time as entropy, such as the animals of her "A Silent End" series, or the mummies in "After Life."
The work of Creative Gateways and AMusinGlass founder Pilisa Rainbow Lady often incorporates time as an homage to her roots. Being of Polish descent, Pilisa will sometimes name her pieces in Polish, such as "Brazowe smugi," "Skrzydetka," and "Sprawdzone." Each name is delicate and simple, highlighting the beauty of the language.
For resident artist Michael Colpitts, many of his pieces are influenced by memory of experience. The free-flowing and buoyant wonder of much of his work is informed by his time as a TWA pilot. His experience with the variety of cultures encountered during his travels is reflected in pieces such as his ceramic masks or in the various fabrics and textiles he uses in his mixed media paintings.
Join Creative Gateways on Friday, March 2from 5-8 p.m. for the opening reception of Traveling Through Time. Meet all the resident artists while browsing the gallery space, exploring the studios, and enjoying appetizers and beverages.
Creative Gateways is an artist collective and public gallery space in Sedona. Founded in 2016 by Pilisa Rainbow Lady, the working studios are open to all, and visitors are welcome to drop in at any time to meet the artists and engage with the creative process. Their intention is to create an open community where cross-pollination of ideas and spontaneous collaborations can flourish. The gallery space showcases the innovative and lively work that results from this very special environment, for visitors to discover, explore, and take home with them. Creative Gateways is located at 45 Birch Blvd in Sedona and is open seven days a week from 10 a.m. – 5 p.m. For more information about Creative Gateways, please visit www.CreativeGateways.com or call 928-862-4440.