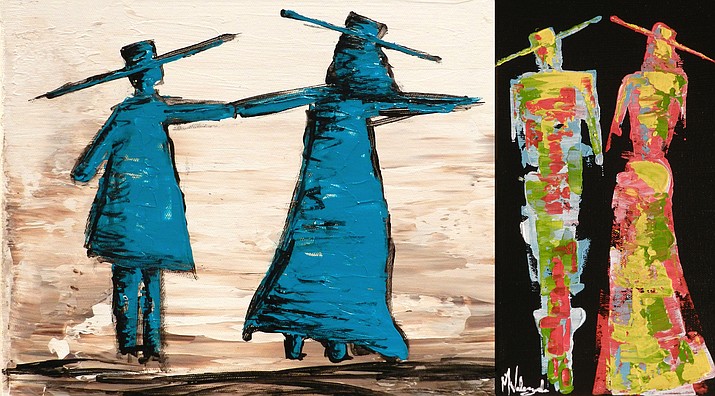 ---
---
At Turquoise Tortoise, a Bryant Nagel Gallery, a wealth of new works are unveiled in "SW Silhouette: Manny Valenzuela" opening with an artist reception on March 2 from 5‑8 p.m. with an artist talk presented at 6 p.m.
In his artist talk Valenzuela provides a glimpse into the inspirations that drive his unique contemporary interpretations of iconic western silhouettes. Western abstract figures define the unique contemporary artwork. Whether he is working in three dimensions or two, these iconic figures present visual metaphors that hold both personal and global meaning.
"I mainly work with western figures because of the poetic lifestyle they [represent]. It appears simple yet contains a complexity that goes beyond what seems obvious," Valenzuela explains.
He draws on historical influences as well as life experiences to inform his paintings and sculpture. When he paints it is in acrylic paint on canvas; his sculptures are of welded steel. The forms captured in both follow his penchant for elongated figures presented in a minimalist style which convey his intent with very little distraction. Bright colors and textures are characteristics of much of his work with the textures in his acrylic paintings often mirroring his sculptural work.
"Many of my paintings are metaphors of personal relationships that convey a message using western influences," Valenzuela notes. "I love using my artwork to express that special bond between a parent and his/her kids."
Valenzuela's canvases often capture lone figures as well - a most western of western icons: Often the form of a man in a wide-brimmed hat and the slim trouser legs of that bygone era or the suggested shape of a long duster caught in the wind. A row of "pistoleros" figure in one painting, a mother and child in another, a couple in love in yet another.
Collectors have been known to purchase not only a painting but a steel sculpture of similar form to stand beside it; the painted figures appearing then to come right off the canvas. Valenzuela's work lends itself uniquely well to a decorator's inspiration.
Mark your calendars and stop by Turquoise Tortoise on 1st Friday on March 2 to meet Valenzuela and gain insights from his artist talk. Visitors to Turquoise Tortoise will also be among the first to see the dramatic new renovations just completed at this 46-year-old gallery.
"SW Silhouette: Manny Valenzuela" runs through March 11.
For more information, contact Turquoise Tortoise Gallery at 928-282-2262 or www.TurquoiseTortoiseGallery.com. The gallery is located Hozho, 431 State Route179 in Sedona. It is open daily from 10 a.m. – 6 p.m. Monday through Saturday; and from 11a.m. – 5 p.m. on Sunday.