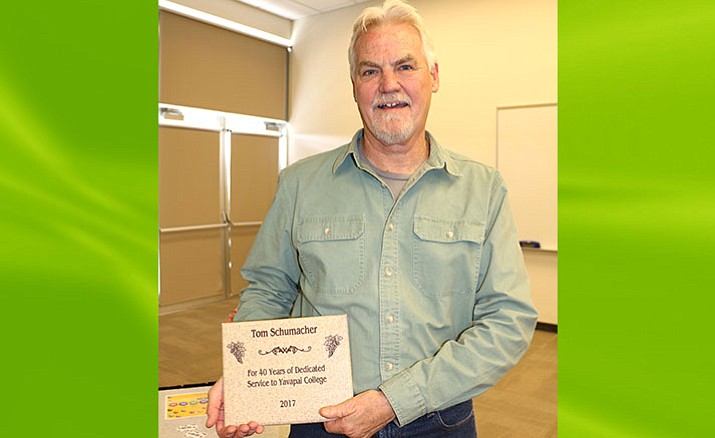 Originally Published: February 27, 2018 2:25 p.m.
Longtime local resident and art instructor Tom Schumacher was recently honored by staff and faculty for his forty years of service at Yavapai College's Verde Valley campus in Clarkdale.
"To me, Tom Schumacher is the heart and soul of the Verde Campus," said fellow instructor Terence Pratt. "He's had an indelible effect on our institution and has built an art department that hundreds of our citizens have benefited from."
From Rhode Island to Clarkdale
Schumacher arrived on campus in 1977 from the Rhode Island School of Design. For about 10 years, he recalls running the art department out of a rented building in Clarkdale -- now the Arizona Copper Museum. "We had a great program there with classes in jewelry, ceramics, woodworking, lapidary, dance and weaving. People were really involved."
When the art department moved to the main campus around 1987, Schumacher opted to test the leadership waters, eventually serving as executive dean of the Verde campus from 2006 to 2011, among other roles. During that time, he was at the forefront in inspiring education and training to support the burgeoning local wine industry.
Ah, Vino
In 2009, the winemaking program was established, and five years later the Southwest Wine Center became a reality. Schumacher remembers working with 30 volunteers on a scorching-hot June day to plant the first acre of grapevines, and thinking, "God I hope these things grow."
Schumacher's hope sprang eternal. The vines not only grew, but flourished, along with the SWC. Student crafted wines have garnered numerous prestigious awards, graduates are working in the local industry and crafting award-winning wines under their own labels, and the center has become a premier academic resource supporting wine growers and economic growth.

"I'm very proud of our viticulture and enology programs, not only for what they have done for the (wine) industry, but for the community. The community is now thriving because of this industry."
Schumacher was a founding member and current president of the Verde Valley Wine Consortium, and has his sights set on graduating from the winemaking program. "I've rolled up my sleeves, gotten out in the dirt, taken the courses one at a time," said Schumacher. I'll probably be the last one to graduate, but I'll keep chipping away at it."
Schumacher holds a Master of Fine Arts degree from the Rhode Island School of Design and along with his wife, Deborah, a financial aid advisor at YC, he's raised their two children in the Verde Valley. He plans to continue teaching ceramics and Photoshop at YC indefinitely, along with creating his own artwork.
More like this story