Originally Published: February 28, 2018 7:24 p.m.
Tears streamed down the Sedona girls' basketball players' faces as they accepted the 2A state tournament runner-up trophy after a 50-44 loss to champion Leading Edge Academy late Saturday afternoon at Prescott Valley Event Center.
And yet despite their disappointment, the Scorpions and their program have progressed mightily.
A deeper, more experienced and athletic second-seeded Leading Edge squad showed what top-seeded Sedona may aspire to in the future under fiery coach Dave Moncibaez. The Scorpions have reached the state semifinals three straight years, making the state finals for the first time in program history Saturday.
"I truly believe that game could've gone either way, but I'm truly proud of these girls and that will to win and just never giving up, and keep working, working, working," Moncibaez said. "They did it for each other. They stayed in the game for each other. They should hang their heads high considering what type of season we ended up having."
Leading Edge swing Prima Chellis, one of six Spartans seniors, registered 14 points, five rebounds, six steals, three assists and a block in willing the program to its first 2A state championship. Eight of Chellis' points came in the fourth period. It took a three-point play apiece from Emily Broos and Daija Sample late in the game for the Spartans to pull out the victory.
"Man, I just can't believe we did it – I'm just excited," said Chellis, holding a strand of one of the game's nets in her right hand as a memento. "We're all seniors; we're graduating. We've got something to put on our backs. We did it our last year."
Spartans senior forward Jasmine Mckinney added 15 points, 13 in the first half alone, and senior guard Halle Price tallied 10 points, eight rebounds, two assists and a steal. Mckinney said Chellis was the MVP of the title game, but that she, too, played a valuable role.
"The difference this year is that I was recovered, and I really helped them a lot," said Mckinney, who didn't play in the 2016-17 season due to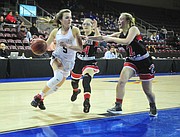 a torn ACL in one of her knees. "That's why I was really excited to play this year, to get a championship my senior year."
This was the second straight postseason that Sedona, which hasn't won a state title in girls' basketball, couldn't overcome Leading Edge. However, in 2017, the Scorpions lost by a much wider margin, 63-47, to the eventual state runner-up Spartans in the semis.
On Saturday, Sedona trailed 25-15 at halftime, but refused to quit. After converting only three field goals and 8 of 11 free throws in the first half, the Scorpions turned up the heat in the second half. Sedona drained 12 field goals to Leading Edge's nine.
Down 36-31 at the end of the third period, Sedona, playing with a limited bench, got in foul trouble but was outscored only 14-13 in the final frame.
"I don't know if anybody knows, but we didn't have a team at the beginning of this season – our entire bench is like first-year basketball players," Scorpions star senior guard Liza Westervelt said. "They [Leading Edge players] have all probably played Club ball for like six years in a row. So for us to compete with them is definitely amazing, and to come back in the end was good."
Sedona senior guard Jo Toscano played inspired ball, notching 17 points, four rebounds, an assist and two steals. Liza Westervelt also shined, posting 15 points, seven rebounds, six assists and five steals. Freshman Mary Westervelt, Liza's sister, added eight points, four rebounds, three assists and two steals.
The Scorpions, the 2A Central region titlists, finished their season with a 27-1 record, while Leading Edge, the 2A Metro South region champions, ended with a 26-4 mark.
On Saturday, Leading Edge played phenomenal man-to-man defense and scored multiple points in transition off of steals, which left Sedona perplexed in the first half. Once the Scorpions exited their funk, they didn't have enough time to complete a final comeback.
"We made the transition to the AIA a couple years ago from the charter leagues, and we had a lot of success there," 10th-year Leading Edge coach Erik Gray said. "But when we made the transition, we felt like we were ready to take the next step as a program, as a school athletically. This is definitely the first [title], but we don't want it to be the last."
Against a run-and-gun, fast-paced team in Leading Edge, which eliminated perennial power Thatcher, 67-45, in Friday's semifinals, opponents had to stay patient on the offensive end and remain disciplined in their transition defense. Sedona had its moments, but the Spartans' athleticism won out, particularly in their ability to fluster the Scorpions into making bad passes and awkward, lower-percentage shots.
"We didn't match up well with this team," Liza Westervelt said. "They're just more physical and more athletic."
Despite the loss, Sedona captured its first state runner-up trophy in girls' basketball, which will be displayed in a case for all to see at the high school.
"Considering no one [in our program's history] has made it this far, and it took us three years to get past the Final Four, it definitely was an honor," Toscano said. "I'm just grateful to have such an amazing coach and this team."
Perhaps the 2018 Scorpions' accomplishment will inspire more girls in Sedona's picturesque community in eastern Yavapai County to develop a fondness for the game – and maybe, just maybe, win a state title someday.
"We're definitely developing players at a younger age," Moncibaez said. "We have one of my assistant coaches, along with the middle school coach, who are a driving force. Those girls are in the gym all the time. So, we're focusing on that."
Doug Cook is a sports reporter for The Daily Courier. Follow him on Twitter at @dougout_dc. Email him at dcook@prescottaz.com or call 928-445-3333, ext. 2039.
More like this story