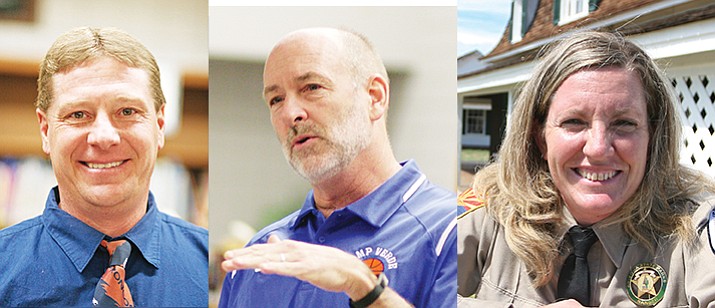 Originally Published: January 4, 2018 1:13 p.m.
Bob Weir, Superintendent, Valley Academy of Career and Technology Education
As superintendent of Valley Academy of Career and Technology Education, Bob Weir says he hopes to continue building relationships with the CTE school's partnering districts – Camp Verde Unified, Mingus Union and Sedona-Oak Creek – as well as the community.
"We're moving forward with the needs of the community," says Weir. "We've still got a lot of work, but we're on an upward swing."
Steve Hicks, Business Manager, Camp Verde Unified School District
Stretching the dollar isn't easy for Arizona state schools, says Steve Hicks, business manager at Camp Verde Unified School District.
In 2018, Hicks says he can look forward to the "typical business manager challenges looming over us."
"Probably the biggest challenge right now is the State is not funding capital as their formulas dictate," Hicks says. "This makes it hard to fund necessary capital projects, while maintaining salaries at a competitive level."
Sheila Stubler, Park Manager, Fort Verde State Historic Park
Fort Verde Park Manager Sheila Stubler says that 2018 is a year of "maintaining and enhancing partnerships with local, state and federal agencies, non-profits, historic societies, museums, military organizations and agencies to promote the Verde Valley."
To do that, Stubler says she's counting on the following:
-Continuation of events and reenactments to preserve Camp Verde's heritage and tell the story;
-Celebrating our volunteers and efforts to preserve history & and provide interpretative programs;
-Completing the adobe stabilization, grading and drainage project at the Fort's Administration building.
Kathy Hellman, Director, Camp Verde Community Library
Having a Yavapai-Apache Nation bus stop at the Camp Verde Community Library and becoming part of the regularly scheduled route are important to Library Director Kathy Hellman moving forward into 2018.
Also a part of the library's looking-forward-to list are the scheduled improvements with the adjoining Rezzonico Park, as well as collaborations with Camp Verde Parks & Recreation; hosting more art exhibits and live musical performances; increased adult educational and job skills opportunities; hosting health fairs, as well as early childhood screening and educational fairs; and securing more grants to help fund special projects.
Peggy Dickey, Friday Camps Coordinator, Camp Verde Unified School District
At Camp Verde Unified School District, Peggy Dickey says she looks forward to offering additional Friday Camps programs.
One of those programs has already proven to be reliable throughout the district – Capturing Kids Hearts.
Dickey, the Friday Camps Coordinator, plans to offer a Capturing Kids Hearts program for students "who are struggling with social skills and classroom behavior: defiance, non-compliance, disrespect, etc."
Dickey says that Capturing Kids Hearts will give students "the skills and opportunities to make positive changes in their lives."
"This course will enable these students to get on a track that may lead them to participation in any of the Friday Camps," Dickey says.
Though the district's students are not required to sign up for Friday Camps programs, participation in most of the programs is based on good behavior," Dickey says.
For ease of signing up for Friday Camps programs, online enrollment should be available by Jan 12, Dickey says.