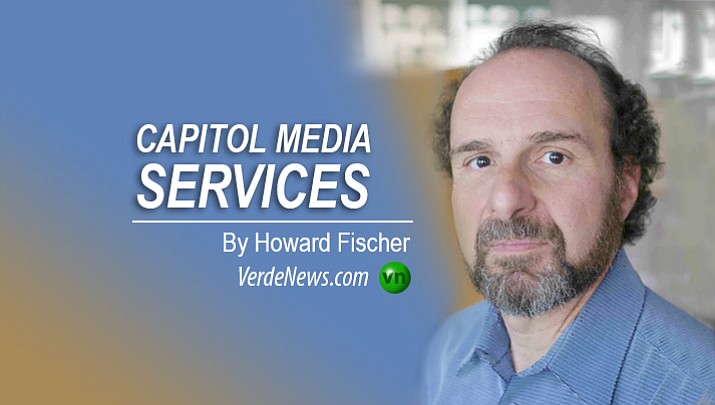 Originally Published: January 6, 2018 3:09 p.m.
PHOENIX -- Attorney General Jeff Sessions may be looking to crack down on marijuana sales in states where they are legal.
But a provision buried in the federal budget, plus a safety valve in what voters here enacted in 2010, should protect individual medical marijuana users in Arizona unless the extreme unlikely event that the Drug Enforcement Administration starts targeting individual users.
Sessions announced this past week that he is rescinding a memo which, until now, has directed the federal prosecutors under his jurisdiction not to target businesses or individuals who are in compliance with state marijuana laws despite the fact the drug remains illegal under federal law.
Instead, Sessions directed the prosecutors to treat questions of whether to pursue charges of marijuana possession, cultivation and transportation the way they would with any other federal offense, consistent "with the department's finite resources.'' That directive was "effective immediately.''
For the moment, though, Sessions and his prosecutors can't do anything at all about Arizona.
A provision in the federal budget, first adopted in 2014, prevents his agency from using any resources to target patients and providers in states where medical marijuana is legal. That provision has been renewed every year since.
Morgan Fox, spokesman for the Marijuana Policy Project, which helped craft the 2010 Arizona law, pointed out this protection expires Jan. 19 unless Congress includes it in the new spending bill -- or at least adopts another "continuing resolution'' to keep the government operating while a budget deal is being negotiated.
"If it is not included, or if there is a government shutdown, the Department of Justice will no longer be prevented from targeting state-legal medical marijuana,'' Fox said.
But even if that happens, there are some protections built in to the Arizona law.
The first is designed to protect medical marijuana users against any state administration that decides to use the illegality of marijuana under federal law to shut down Arizona's program.
As approved by voters, the 2010law allows those with certain specified medical conditions to be certified by the state to obtain up to 2 1/2 ounces of marijuana every two weeks. The system is also built on the premise that virtually all sales would be through state-licensed dispensaries.
The law, however, says if the Department of Health Services fails to issue an identification card within 45 days of getting a valid application or renewal, the card "shall be deemed issued'' and a copy of the application qualifies as a valid ID card.
And a separate section says if the health department is not accepting applications, people can effectively self-certify by providing the same information required in a notarized statement along with the written certification of a physician that the patient needs the drug.
Such a possibility is not out of the question, even with the voter approval of the 2010 law.
"I've always thought we should enforce federal law, just like we should enforce state law,'' Gov. Doug Ducey said Friday.
That, then, goes to the question of what happens if federal agents crack down on growers and dispensers and there's no place for medical marijuana patients to buy it.
Here, too, the Arizona law has a remedy: Patients can simply grow their own.
The statute contains a provision allowing those who are not within 25 miles of a dispensary to grow up to 12 plants for their own use. And if there are no dispensaries, the more than 151,000 people who already have state-issued medical marijuana cards -- and those who would self-certify in the future if the health department balks -- all would be at least 25 miles from a state dispensary and all free to grow their own.
There also are several state court rulings which have upheld the state's medical marijuana laws despite its illegality at the federal level.
From Ducey's perspective, if people want to legalize marijuana they should seek to amend the federal prohibitions.
"If we want to change a law, we should have a discussion about changing a law,'' he said Friday. "I'm certainly open-minded to those discussions.''
But the governor has made it very clear in the past that he would not support legalization, even as an alternative to opioids.
"I don't think that any state became stronger by being stoned,'' he said during a 2016 press conference.
On Twitter: @azcapmedia